Words, Recipe and Styling by Libbie Summers
Photography by Chia Chong
There's a 9 episode story arc in season 6 of Sex and the City, where Carrie (Sarah Jessica Parker) has a relationship with Russian artist, Aleksandr Petrovsky (Mikhail Barishnikov). I don't remember everything about the story line aside from wishing the writers would somehow create a moment whereas Petrovsky's character would show old movies of himself to Carrie…when he was a ballet dancer. It didn't happen. What Petrovsky's character did do was introduce Western pop culture to Cherry Verenya. While he and Carrie were sharing a romantic late night meal in one particular episode, he introduced her to this wonderful sweet and sour cherry syrup that Russians use to sweeten their tea. I couldn't tell you what Carrie was wearing or how long the camera held on Petrovsky's blue eyes, but I never forgot that syrup.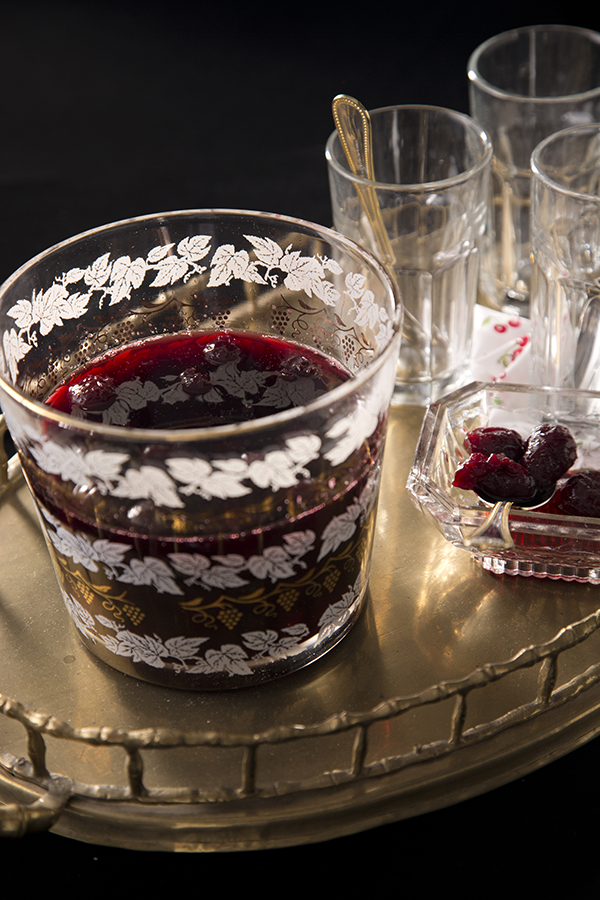 Cherry Verenya
yields about 3 cups 
Ingredients:
1 cup turbinado sugar
1 pound fresh or frozen whole sour cherries, pitted (I used frozen)
1/4 cup freshly squeezed lemon juice
Directions:
In a medium sauce pan over medium high heat, add the sugar to 2 cups water. Cook, stirring occasionally, until the sugar dissolves. Add the cherries and bring the mixture to a boil. Stir. Reduce the heat and allow the cherry mixture to simmer until beginning to thicken (about 30 minutes), stirring occasionally. Remove from heat and stir in the lemon juice. Allow mixture to cool. Serve alongside hot tea as a sweetener (Russian Style).
For an American twist, spoon over ice cream.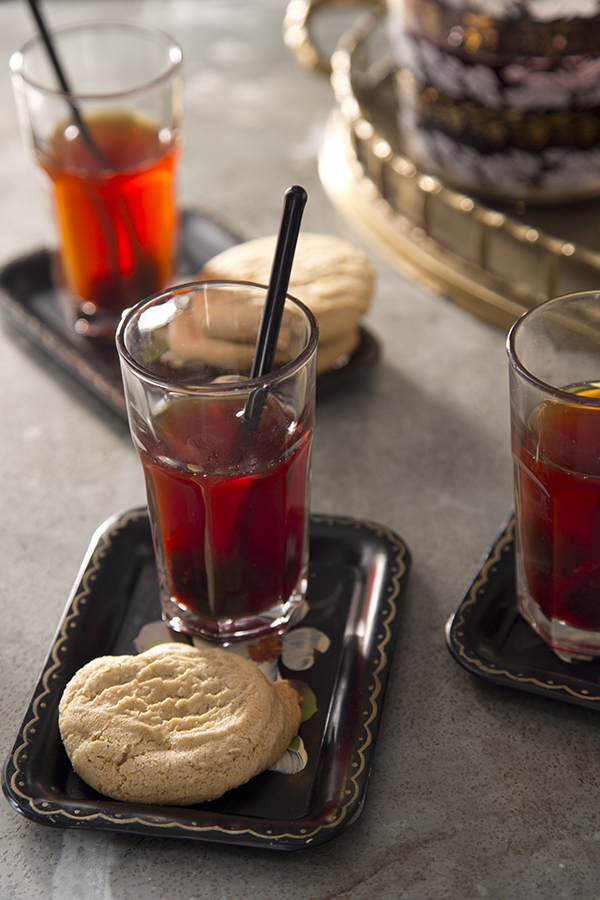 Love Cherries? Try some of our other Cherry Recipes:
Russian Spice Cookies
Grilled Scallops and Cherry Salsa
Adult Cherry Coke Float
Sour Cherry Pie
Libbie's Food Styling Props: (top image) Vintage ice bucket from Habersham Antiques Market, Brass serving platter borrowed from Betty Anderson, Glasses from Williams-Sonoma, Small piece of cherry printed fabric from Fabrika Fine Fabrics. Spoons from Home Goods. (bottom photo) Zinc table from Bastille Metal Works, small tin dishes from Habersham Antiques Market.