Recipe and Styling Libbie Summers
Photography by Chia Chong
Produced by Salted and Styled and Camp Makery for Pottery Barn Have and Hold
Floral Design by Christy Hulsey and Amanda Currier of Colonial House of Flowers
Production Assistant: Candace Brower
Model: Anna Heritage
Shot on location at Temple's Farm
Scene Three:
As the vineyard engagement party continues, Anna bakes a cake that speaks to two of the things her sister loves most in the world –chocolate and Cabernet. Anna leaves the sides frosting free for less decadence and more style. She decorates the top with the simple beauty of grapes, grape leaves and the most delicate of white wild flowers.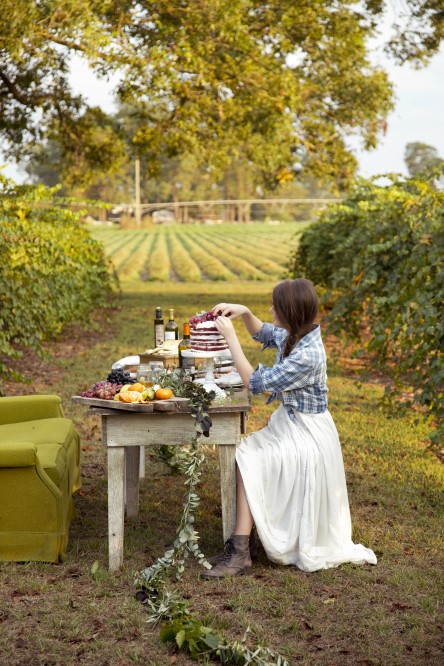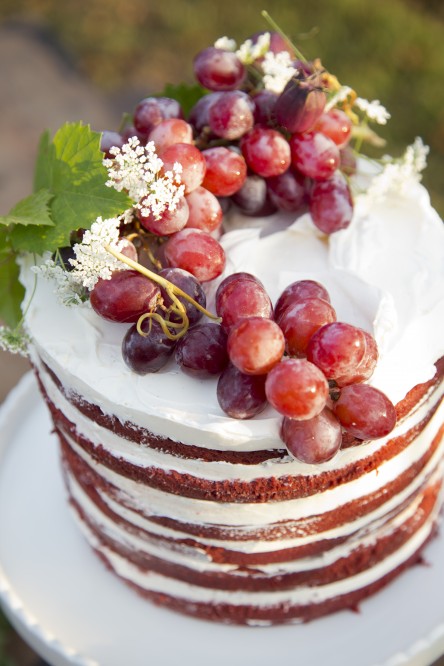 Chocolate Cabernet Naked Cake
Serves 12
Ingredients:
For Red Wine Syrup:
¾ cup Cabernet
½ cup brown sugar
For Cake:
3 ½ cups cake flour
½ cup high quality cocoa powder
2 teaspoons baking powder
½ teaspoon cinnamon
½ teaspoon salt
16 tablespoons butter (2 sticks), room temperature
2 ½ cups sugar
4 eggs, room temperature
2 cups Cabernet or other full bodied red wine
Red food coloring (optional)
For Frosting:
6 egg whites
1 ½ cups sugar
6 sticks butter, room temperature
1 ½ tablespoons vanilla paste 
Directions:
For Red Wine Syrup:
In a medium saucepan over low heat, add the sugar and wine and whisk together until the sugar has dissolved. Set aside.
For Cake:
Preheat the oven to 350° F. Spray three 8-inch round baking pans with nonstick cooking spray, line with parchment paper, and spray the parchment paper. Set aside.
In a medium mixing bowl, whisk together the flour, cocoa powder, cinnamon, baking powder and salt. Set aside.
In a standing mixer fitted with the paddle attachment add the butter and sugar. Mix on medium speed until light and fluffy. Reduce the mixer speed to low and add the eggs, one at a time, mixing until each is fully incorporated. Mix in the flour mixture and wine, alternating with each. Scrape down the bowl as needed. Add the vanilla paste and mix until combined. At this point if you want your cake to have a more prominent red color, you can add a little red food coloring.
Divide the batter evenly between the prepared cake pans. Bake until a toothpick inserted in the middle of the cake comes out clean (about 30 to 40 minutes). Remove from oven and allow to cool in pans completely.
For Frosting:
In a medium saucepan over low to medium heat combine the egg whites and sugar. Stir constantly until the egg whites reach 160˚ F and the sugar has completely dissolved. Transfer to a standing mixer fitted with a whip attachment. Whip on medium speed for 1 minute. Slowly increase to high speed. Whip until the egg whites are stiff and glossy. Add in the butter 2 tablespoons at a time. Add in the vanilla paste. Continue whipping until the buttercream is light and airy.
To Assemble:
When cakes are completely cool cut each in half lengthwise with a serrated knife (your making 6 layers). Working one layer at a time, place it on your chosen cake stand (cut side up). Brush with a very thin layer of the cabernet syrup and allow it time to seep into the cake. Place about a ½ cup of frosting in the center of the cake layer and spread it out evenly all the way to the edge. Don't frost the sides, this is what makes it a "naked cake"! Continue this process with the next 5 layers of the cake ending with a thicker layer of frosting on top of the cake. Decorate the top of the cake with grapes and flowers if you like.
Store cake at room temperature.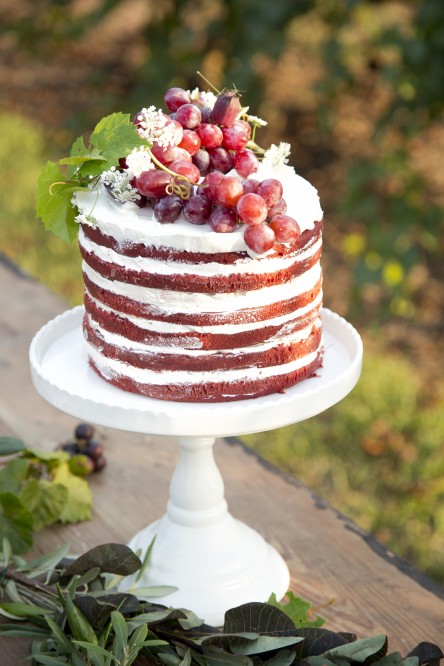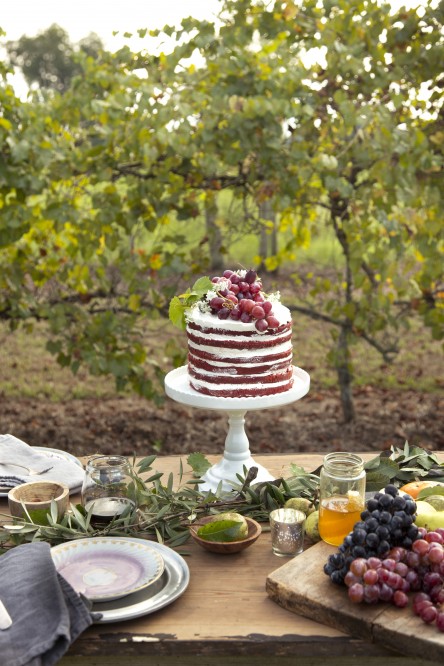 Catch up on what you missed!
For Scene One click HERE.
For Scene Two click HERE.