Artwork by katherine sandoz
Photography of Joel by Chia Chong
Words by Libbie Summers
Joel Snayd –remember that name.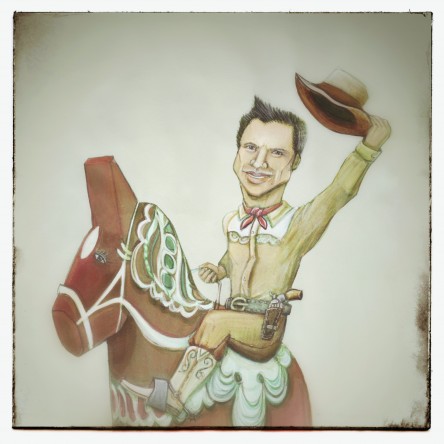 (katherine sandoz, "joel snayd: design cowboy", water-based media, 2014) 
I've told every producer I know that Joel Snayd is ripe for reality television. Not the cheesy housewife kind that I watch after my husband has gone to bed and the drapes are tightly drawn. The kind of docu-drama that follows on air talent that are always funny, a bit manic and ridiculously talented. Reality television with on screen talent that is ACTUALLY talented.
Joel's work has threaded through our work on Salted and Styled and in my own books where he and his team at Rethink Design Studio have served as models, set designers and brand consultants. We are honored to salute him here. 
A little peek into the brain and design world of Joel Snayd…design cowboy…lover of food…loyal friend.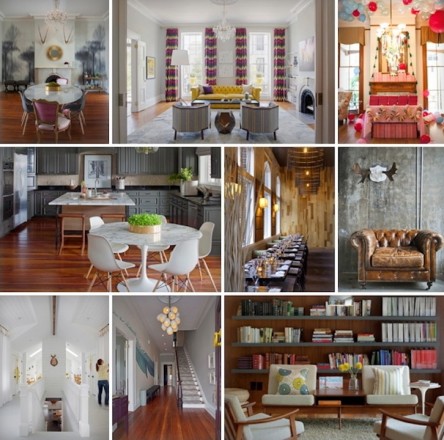 S&S: What are you currently working on? 
JS: My body. Obviously that is not working out…so  I am currently concentrating on moving our home-based studio into an old school house in downtown Savannah. It's long overdue and we are very excited for this new chapter in our lives. And of course we are working on several exciting client projects that include a butcher shop, Parisian inspired vacation rental, and a handful of high-end residential projects. 
S&S: Red or Black Licorice?
JS: Red
S&S: Fried or Baked?
JS: Baked but I secretly want fried
S&S: Salsa or Hummus?  
JS: I love both! Hummus at home. Salsa when I am out.
S&S: First food memory? 
JS: Um…deep dish Chicago pizza. I am a midwest kid after-all.  At least that is one of my favorite memories. Then, of course, there were many  "my mother wishes she were Jane Fonda" food memories. Such as my mom's "heavy as a brick" 100% organic wheat germ pancake. And no, it was not good. I  WANTED THE FLUFFY MELT-IN-YOUR-MOUTH pancake! BUT, thank you mom for only serving us fresh maple syrup. 
S&S: When you want to impress someone, what do you cook/bake? 
JS: Banana pancakes. Especially during my single years (morning after). Now it is to impress my son, wife and in-laws!
S&S: What do you have in your cup on your desk while you're working? 
JS: Water from the tap and on occassion a Mojito with fresh mint from our garden
S&S: What inspires your work? 
JS: The people around me, fashion, Scandinavian design, textiles/pattern, vintage finds…
S&S: Reality television….love or loathe?
JS: Secretly love a lot. Ssshh. My wife has been known to oust me. She LOATHES reality TV
S&S: What attribute is the most important one to have if someone is your friend? 
JS: Loyalty
S&S: If your best friend asked you to bake their wedding cake, what kind would you make? 
JS: You mean my ex-friend because that is what would happen if I made their wedding cake; however, if my childhood super powers came to life I would whip up the world's best banana cake with cream cheese! 
S&S: Describe your fashion style in two words. 
JS: Classically Trendy
S&S: Describe your design style in two words. 
JS: Organic Modernism
S&S: Favorite hostess gift to give?
JS: One of our custom powder coated bottle openers (available HERE). Or a vintage powder coated serving set
S&S: A topic that makes you raise your voice? 
JS: Inadequate contractors and subs 
S&S: What is skill you have that would surprise people who know you?
JS: I love to garden. You wouldn't necessarily know that given our postage size courtyard. Growing up I dreamed of being a farmer.  As a young kid, I spent several summers working and living on a dairy farm in Wisconsin. 
S&S: 5 things you love.
JS: My family. All things design. A cold beer. Snuggle time w/ my son, Rye. City and country –Love the city life but crave being in the middle of nature w/ no one around. That's a bit telling about my personality…
Meet Joel's Rethink Design Studio Team
HERE
.
You have GOT to check out the Rethink Design Studio portfolio
HERE
.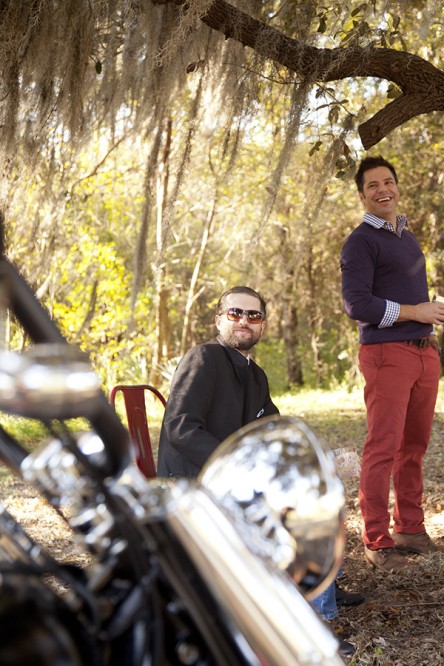 (Joel with artist, Matt Hebermehl on the photography and video set for Sweet and Vicious)