Words by Andrea Goto
Portrait of Pati Jinich courtesy of Michael Ventura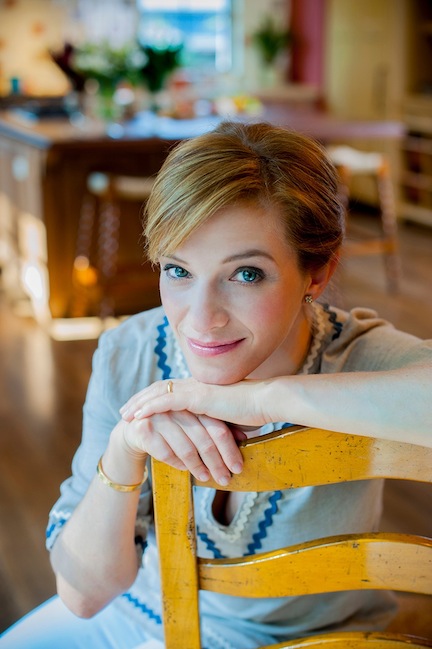 When a woman describes herself as an authentic, salt-of-the-earth person, she's usually lying. Take any celebrity who's ever claimed that they're "just like us"—"us" being the folks who pour our own cereal and style our own hair or, more often, forgo breakfast and hairstyling because there's a dog that needs walking, a husband who needs our internal GPS to find something, and a child who needs some sort of small vegetable extracted from his or her ear/nose/bellybutton.
However, this doesn't apply to Pati Jinich (pronounced HEE-nich). The 41-year-old Mexican-born chef is just like us—or at least more like us than most folks who have a successful cooking show, a wildly popular culinary blog and recently released cookbook.  I know this because the first time I call her, she's in a panic. She sings songs in a heavy Mexican accent something about burning nuts, offers a hasty apology and asks that I please call her in "one minute—no!—30 seconds!"
"I was burning some sunflower seeds," she explains when I call her back, dragging out her vowels longer than I thought one's breath would ever allow. "I was in a hurry and I did what I tell my students never to do. And so I paid the price." This admission makes it much easier to accept that Pati is, by her own account, "too transparent" and "all about being real and doing real stuff" in both her kitchen and life—locations that are inseparable for a woman who grew up in a family where food was at the center of all communication.
The Family Kitchen
"All we talk about is food," Pati explains between bites of food she's trying to fit in her busy schedule which, which at this moment, means testing recipes for the culinary program she teaches at the Mexican Cultural Institute in D.C. "Food is how my family connects."
The second-generation Jewish Mexican considers herself "100% Mexican," and as such is fascinated by the influences throughout history that have shaped traditional Mexican cuisine, including her own family's.
When her mother's family moved from Austria to Mexico, her great aunt opened what became one of Mexico's most famous bakeries.
"She made apple strudels with Mexican ingredients," Pati recalls. "And my mom learned from her mother the basis of Austrian cooking, which is really complex and elaborate. She would make roasted duck and stuffed apples and different kinds of pickled slaw."
While her mother was accomplished at preparing complex "celebration" dishes, she worked during the week, leaving the four daughters to pick up "home-cooking" detail, which greatly influenced Pati's approach to food.
"I like simple, homey and messy and easy-to-eat," she assures me. "I don't have the patience; my hands are very sloppy. And I have three boys that will make a mess of whatever I present, so I relish in home-style cooking. I think that's what moves us and feeds us and nurtures us."
Live to Work
Determining what would nurture her professionally, however, did not come as easily. As a studious teenager, Pati dreamed of becoming a philosopher, but through a number of fated turns, ended up studying political science at a rigorous college in Mexico and later earned a master's degree in Latin American Studies from Georgetown University. During her employment in a think tank in D.C., Pati began to have "an existential crisis" and eventually left to launch the "Mexican Table" culinary program at the Mexican Cultural Institute where she has hosted demonstrations, tastings and workshops for six years.
Today, Pati travels between North and South America for her PBS show and to conduct field research for upcoming courses.  The day we speak, she's testing a recipe that demonstrates the Asian influence in Mexican cooking and by the end of the month she will have appeared on numerous talk shows to promote her new book, Pati's Mexican Table (Houghton Mifflin Harcourt 2013).
I tune into one of the morning shows the day Pati is scheduled to appear to see the woman behind the contagiously upbeat voice that rises and falls with the range of an accomplished vocalist. Not surprisingly her hands are as animated as her speech, waving, touching and reaching for emphasis. I also watch to see her make salsa verde cruda with raw tomatillos—a near heretical act in her homeland.
The Forbidden Fruit
"Most people use the tomatillo cooked," she explains to me during our phone conversation. When she developed a recipe pairing raw tomatillos with watermelon and feta, she called her mother to share her accomplishment.
"My mom said, 'Patti, that sounds disgusting,'" she deadpans. "Mom was beating on her chest with pride like, 'We Mexicans don't use a tomatillo raw! What are you doing?!' and I said, 'Ma, it's so punchy and delicious, you have to try it.'"
Later, when her mother came to visit, Pati put the salad right in the middle of the table and everybody was eating it.
"Now my mom is making it in her kitchen," she laughs.
But some tomatillo recipes are sacred.  "The traditional salsa verde is perfect as it is," she says. "Whenever people add vinegar or sugar to it, I'm like, 'How dare you!' Or a mole poblano, or red posole. I try to just streamline (the process) so people don't get intimidated doing them."
Through her work, Pati pays tribute to her family, her homeland, it's history, culture and national cuisine. But her physical distance also allows her the necessary room to grow.
"Being Mexican, I have the nostalgia for the foods I grew up with and I repeat them and I want to share them, but also having the distance has given me the freedom to play with things in a way that I wouldn't do in Mexico because it's 'not how you do things,' you know?"
I do know. And so do you. It's just another way Pati is just like us.
For more about Pati, visit her website, Pati's Mexican Table.
Follow Pati on Twitter, Facebook, Pinterest and Instagram.
Find out how to find Pati's PBS show, Pati's Mexican Table, in your area. HERE