Photography and Art Direction by Chia Chong
Words, Photo Styling and Art Direction by Libbie Summers
Custom Paper Works by Emily McCarthy for Emma J Designs
Floral Design by Ashley Bailey
Artwork by katherine sandoz
Think outside the dining room. Set a dinner table in an unexpected place, enlist the talents of your friends and pay attention to every detail…that's where the love lives.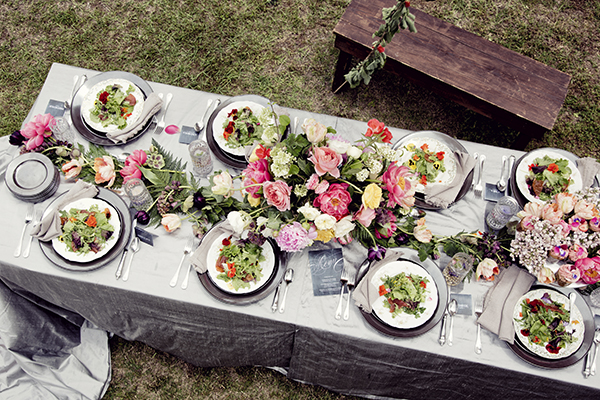 If you were one of the huge grey balloons floating over the table, this is what you would see.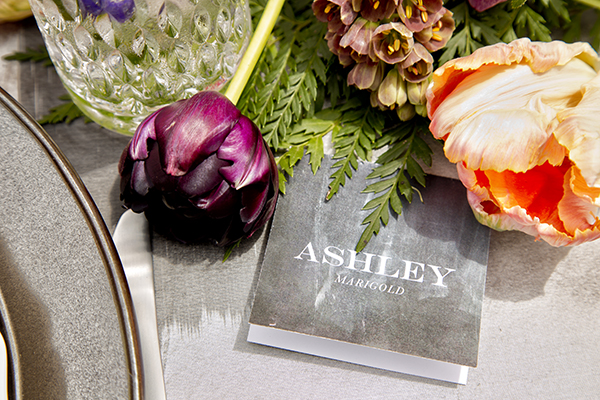 Since this was an edible flower inspired luncheon. I wanted to do something fun with the place cards Emily McCarthy was designing. For every guest, I picked an edible flower that I thought best described their personality. I chose a marigold for  Ashley –tough, sunny, peppery and beautiful.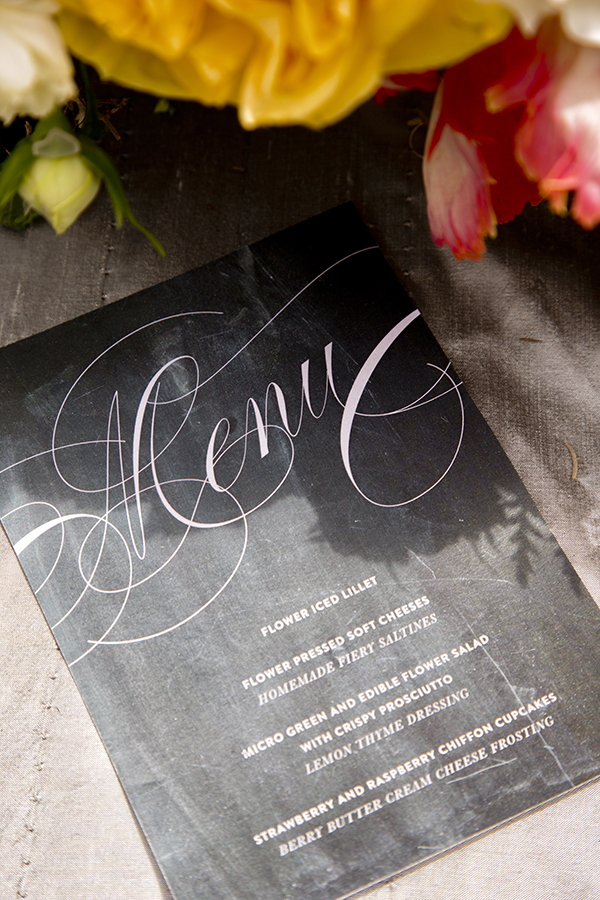 Emily designed this menu card to suit the event as well as speak to the Salted and Styled brand.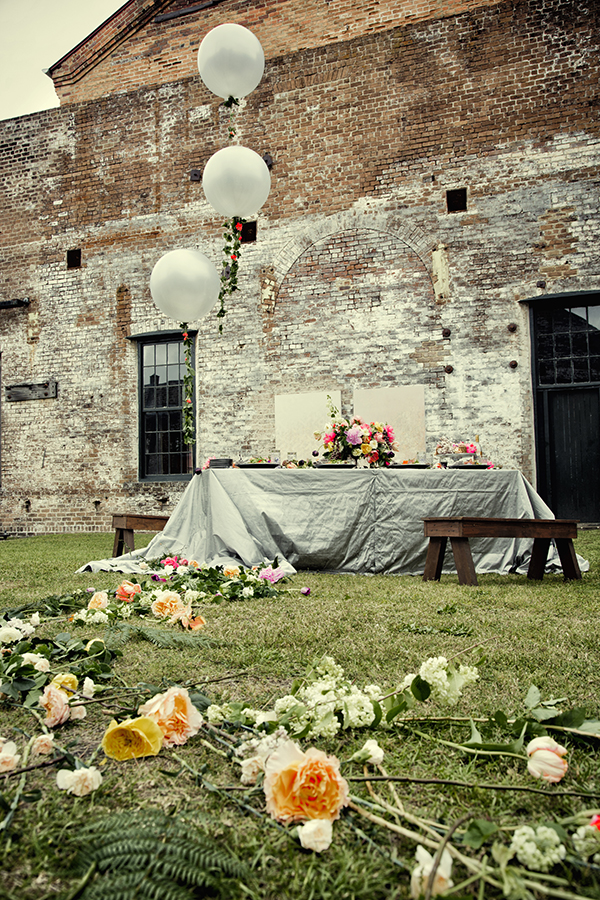 The love is in the details.
Libbie's Photo Styling Props
Floral Design: Ashley Bailey for The Byrd Collective
Artwork on Wall: Custom pieces by katherine sandoz
Location: Savannah Roundhouse Railroad Museum
Custom Paper Work (menu and place cards) See Emily's Bio Below: Emily McCarthy for Emma J Designs
Pewter Stoneware Chargers and Dessert Plates: Courtesy of Juliska
Antique Dinner Plates: Limoges (Pink Flowered) on loan from Brenda Anderson of Habersham Antiques Market, English (Green) my husband's grandmother's plates
Flatware: Courtesy of Juliska
Table Cloth: 4 (108″) silk drapes
Napkins: Cut and Frayed yardage
Crystal Glassware: Ralph Lauren Home
Table and Benches: Courtesy of Savannah Roundhouse Railroad Museum 
Meet this week's special contributor, Emily McCarthy, owner/designer of Emma J Designs and one of my favorite people!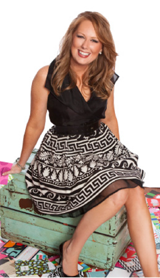 Emily J. McCarthy, has been a member of the paper industry for almost 10 years. Throughout her journey, her experience includes small independent retail, direct wholesale, large corporate retail and boutique design. Emily graduated with a BA in Graphic Design and Photography from LaGrange College in LaGrange, Georgia. After resigning as Senior Graphic Designer at Swoozie's, Emily pursued her dream of launching a fully custom design company based in Savannah, Georgia. From brides to business owners, Emily assists with branding every part of their event, corporate identity or personal image. Emily's custom designs have been seen on The Today Show and in publications including The Knot, Southern Living, Southern Weddings, Savannah Magazine and South Magazine.
In 2010, The Whitney English Company collaborated with Emily to create a new product line of modern, southern products called Twist Paper. Twist Paper is a concept developed by Emily McCarthy and Whitney English Kolb, who met in 2004 and have talked for years about the opportunity to create a line together. The line includes a full collection of southern, preppy party invitations and personalized stationery, as well as various personalized gift products related to entertaining and southern hospitality. 
Emily currently resides in Savannah, Georgia with her husband Patrick and son Rhett. She enjoys living on the coast, loves prosecco, adores unique monograms, dons geometric patterns and continues to stay true to her southern roots and savvy style.
Click here to learn more about the story of EMMA J DESIGN.
Follow Emily on her Blog, Pinterest, Twitter, Facebook