By Amy Zurcher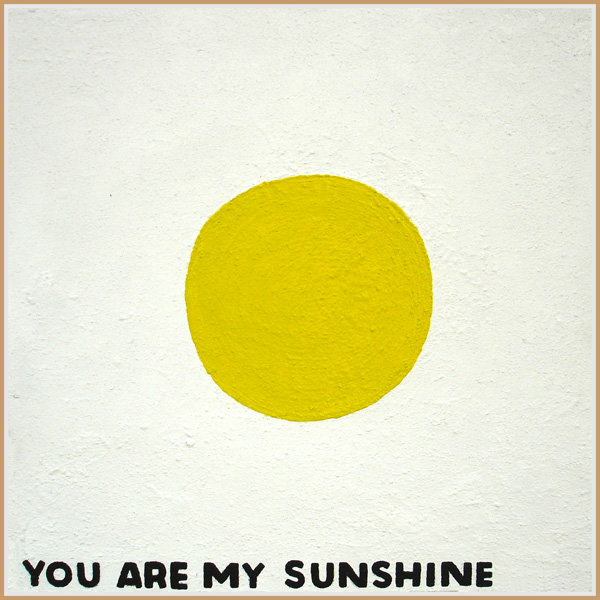 My fondness for the artwork featured this week on Salted & Styled is composed of a two-fold list of ingredients: one part eggs, the other part simple words. I love eggs and if its morning time (or any time!) and a person is hungry, I suspect anyone would see the perfect sunny side up yolk in the center of this painting. Do you see it? C'mon, at least a small part of you wishes you could toast a piece of bread, dip it into the center of this perfectly preserved piece of rich yellow sunshine and satiate those tantalized taste buds by sinking your teeth into its yolk-soaked crusty goodness. Mmmm. The second part that is so endearing to me about this artwork are the simple words painted starkly at the bottom that read "You Are My Sunshine." I would not be the person I am today if I had not been blessed with a mother that sang these words to me over and over again throughout my childhood. Even now as an adult, there have been times she will hum a few bars of this sweet song in my ear as she hugs me reminding us both of our special bond. In keeping with tradition, this same song is heard often by my two little guys at home and in the car ride to and from school. It's just missing the accomplished soprano voice of my dear mother, replaced by a rather wonky, off-key version sung by me, a mama that hopes to imprint this simple message on the hearts of those she loves most.
Tim Wirth created this piece titled appropriately "You Are My Sunshine." I really dig his use of text in his work, which is why I find them quite irresistible when the words just seem to be literally calling out my name. I own two of his works, one rotational (yes, he intends for you to hang it different ways) painting with the words "DAY" and "NIGHT," (see my Charlie's baby room pic below) the other one is purposefully placed right in my entryway, greeting me at the end of each day with the words: "I always forget just how pretty you are, I will try to remember" on it. The whole notion of "pretty is as pretty does" greatly appeals to me. When asked about his frequent use of text in his pieces Tim offered up this gem: "I like the straightforwardness text offers. I like clarity and confidence. I don't like art that tries to disguise itself. I like stuff that steps up to the plate spitting, ready to swing. Text lets me be clear in such an overt way that it kind of invites mystery back on itself."
I am a total sucker for thickly applied paint, rich texture and a simplicity that is primitive and deceptively naive. In a word, his work just makes me happy, but not just happy- I would even lay claim to there being some kind of contentment to be found in his pieces. The work feels raw and honest. It bears no pretenses and isn't trying to blow your mind…just maybe reminding you to savor something that you might have missed. And that, in my mind, is good art that you want to live with, not just something to place on the wall above the couch.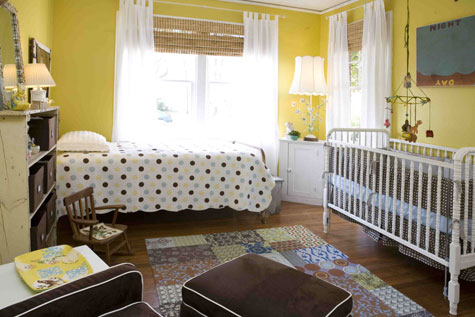 I even find when talking with visitors at shopSCAD (the cool gallery-shop I work at) about Tim's work that there is a common sentiment that goes something like this "I mean, I don't know…I just don't usually like this kind of thing, but something about this guy's paintings makes me think I do… I mean, am I crazy? Why do I keep looking back at this?" Now this is the part where I rush in letting them know it is O.K. to feel this way, and they, like many others, are inexplicably drawn to Tim's work. I reassure them they are in good company and indeed there is something quite magical and compelling about his pieces. This is usually their initiation into what I call the "Tim Wirth Fan Club," whereby one becomes a member after purchasing not just a first, but a second piece. I chatted with Tim a while back and was charmed by his humility and salt-of the-earth view of the world. When I asked who his favorite artists were, he answered, "I don't live around people who make art. But I do get to be around farmers, who have always fascinated me. They're an impressive breed. I think all my favorite artists are farmers." He went on to further melt my ole sentimental Midwestern heart by responding to my question of what interests saying, "I like things that really exist. I like the way people go about doing things. I'm just as interested in watching a person try to put a dog in their car as I am in seeing a Matisse in person." Amen to that! And with this simple statement, Tim nails precisely what it is that draws me to his work: something so seemingly straightforward—crisply-painted, basic words or a dog being ushered into a car—can be a moment so arrestingly powerful it stops us in our tracks and gleans an almost inexplicable emotional response. His art exemplifies my belief that these little every day moments and memories amount to the people we become and the experiences that inevitably shape our character.
For more information on artist or to purchase his work visit Tim Wirth or shopSCAD.