Recipe by Roberto Leoci
Photography by Chia Chong
Styled by Libbie Summers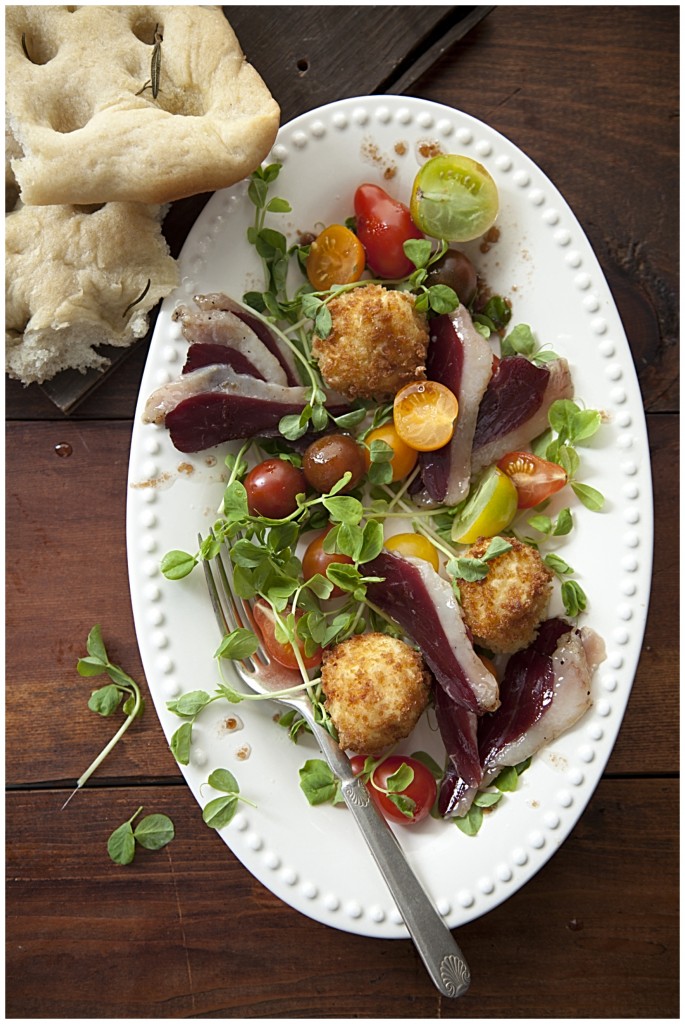 Crispy Goat and Duck Salad
Ingredients:
1 (10 ounce) log of goat cheese
2 tablespoons all-purpose flour
Pinch of salt
1 large egg, beaten
3 cups panko (Japanese bread crumbs), crushed lightly
Canola oil for frying
1 (8 ounce) Duck Breast Prosciutto (see step by step How To HERE), thinly sliced on the diagonal
4 cups fresh pea shoots, washed
12 cherry tomatoes, sliced in half
Raspberry Jalapeno Vinaigrette (recipe to follow)
Directions:
Line a baking sheet with waxed paper and set aside.
Cut the goat cheese log into 12 equal pieces and roll each piece into a ball. Place goat cheese balls onto the waxed paper lined baking sheet and refrigerate until firm (approximately 15 minutes).
In a small mixing bowl, whisk together the flour and salt. In a second small mixing bowl place the beaten egg. In a third small mixing bowl place the panko. Working one goat cheese ball at a time, dredge in flour mixture, dip into egg mixture and finally roll in the panko until fully coated. Return coated goat cheese ball back onto the wax paper lined baking sheet and repeat process until all 12 balls have been coated. Place baking sheet in the freezer just until the goat cheese balls are firm (approximately 15 minutes).
Line a baking sheet with paper towels and set aside.
In a large saucepan, heat about 2-inches of the canola oil to 360º F. Working in batches, fry the goat cheese balls until golden brown and crisp (approximately 2-3 minutes/turn occasionally). Using a slotted spoon or spyder, transfer the fried goat cheese balls to the paper towel lined baking sheet.
To assemble: Divide the pea shoots, duck prosciutto, tomatoes and goat cheese balls evenly between 4 plates or one large platter and decoratively arrange. Drizzle with Raspberry Jalapeno Vinaigrette.
Raspberry Jalapeno Vinaigrette
yields about 1/3 cup
Ingredients:
2 tablespoons Leoci's Raspberry Jalapeno Jam®
2 tablespoons olive oil
2 tablespoons balsamic glaze (can substitute balsamic vinegar)
Kosher salt and freshly ground black pepper to taste
Directions:
In a small mixing bowl, add first three ingredients and whisk together. Season with salt and pepper and drizzle over Crispy Goat and Duck Salad.
Serves: 4
Prep Time: 15 minutes
Inactive Time: 30 minutes
Cook Time: 15 minutes
Difficulty: Easy
Recipe Courtesy of Roberto Leoci for Salted and Styled
Libbie's Food Styling Props: Shot on an old wooden box I lifted from Meddin Studios (Note: it was returned after); The plate is from Pottery Barn; The fork was found at Habersham Antiques Market; the focaccia is from Leoci's Trattoria and is setting on an old piece of wainscoting from a home torn down on Sea Island, GA.
As seen on the cover of this months Epicures issue of Savannah Magazine.