Recipe by Brenda Anderson
Photography by Chia Chong
Styling by Libbie Summers
A healthy lunch choice.
Four Grain Salad
Ingredients:
1/2 cup brown rice
1/2 cup black heirloom rice
1/4 cup barley
1/4 dried winter wheat berries
1 large sweet onion, rough chopped
6 ounces grape tomatoes, sliced
4 green onions, sliced
1 tablespoon toasted sesame oil
6 ounces sliced white mushrooms
Kosher salt
Freshly ground black pepper
½ cup toasted chopped pecans (optional)
Directions:
Prepare the brown rice, black rice, barley and dried winter wheat berries in one medium saucepan according to the directions on the brown rice package. While rice is cooking, in a large sauté pan heat toasted sesame oil. Add onions and cook until translucent (approximately 5 minutes). Stir in mushrooms and cook for an additional 4 minutes. Set aside. Remove cooked grains from heat and fold in onion and mushroom mixture, sliced tomatoes and green onions. Serve warm or room temperature.
Optional: can be served with toasted chopped pecans.
Serves: 4 to 6
Prep time: 10 minutes
Cook time: 50 minutes
Difficulty: easy
Recipe courtesy of Brenda Anderson for Salted and Styled
Photography by Chia Chong
Styling by Libbie Summers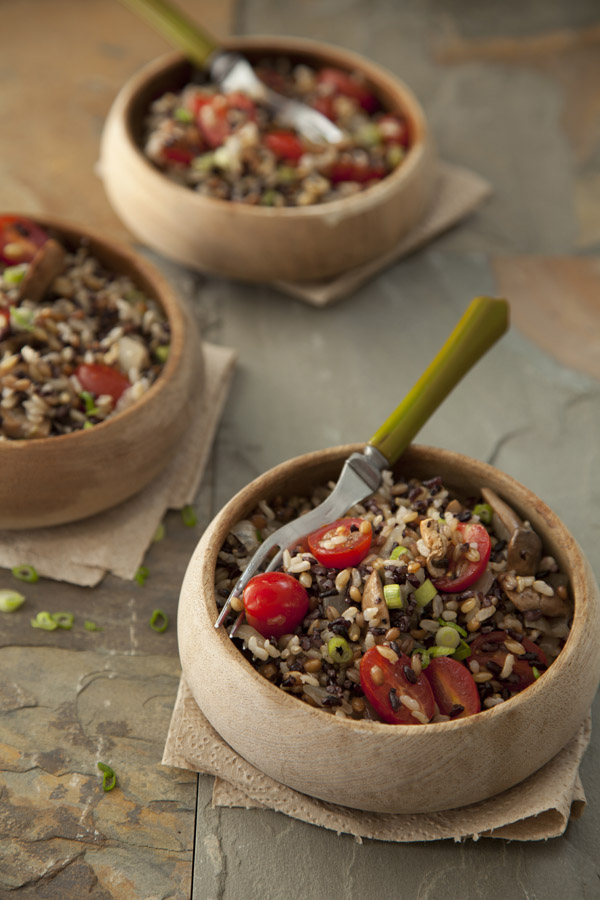 Libbie's Food Styling Props: (Image 1) Base is slate tiles from Home Depot; Background is Gray Felt; Salad is inside a large jar that is actually marked "coffee" on the other side that I picked up in Colorado ages ago; Utensil is actually a wooden handled serving fork (can't see the tines) with a piece of natural twine tied on the end from Habersham Antiques Market; wooden serving bowls are from World Market, Vintage green bakelite handled forks from Wertz Brothers Antique Mart; linen is a velvet trimmed natural linen kitchen towel that I picked up in France 2 years ago. It has no tags on it…I so wish I could tell you how to get some because it is beautiful. (Image 2) Base is slate tile, Wooden bowls are borrowed from Amy Zurcher at shopSCAD; Bowls are sitting on folded natural paper towels; forks are the same in the above image.