Words and Concept by Harrison Scott Key
Photography by Chia Chong
Styling by Libbie Summers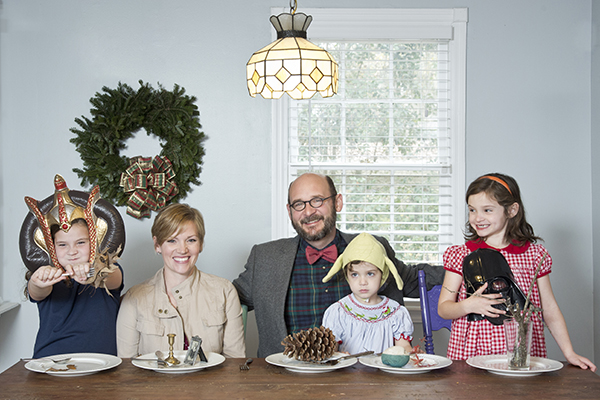 "The Annual Key Family Experimental Ramen Noodle Festival"
One of the great things about having young children, in addition to them constantly screaming your name for no reason, is that they are so full of joy and laughter and questions.
"When is Christmas?" they ask.
"What kind of food will we eat?"
"Will it be gross?"
"Can we have chicken nuggets instead?"
"Is Santa Clause real?"
"Do you think he likes chicken nuggets?"
We have three daughters, ages four, six, eight, little stair steps of delight. We feed them all sorts of things, such as broccoli and Brussels sprouts and corn and asparagus.
"How do you get your children to eat so many vegetables?" people ask.
"By holding them down," we explain.
My wife and I usually work in teams, where one of us holds the food on a fork near their mouths while the other one stands nearby, explaining how they have disappointed us. Sometimes they eat what we eat, sometimes they eat frozen breaded objects from various bags that have been in the freezer since the early days of the War on Terror.
The holidays are especially fun, when our daughters have the opportunity to reject a richer variety of foods. Over the years, they've made it clear that they don't like holiday food: jellied cranberry things, spinach madeleine, sweet potatoes mashed beyond recognition, and even turkey, which I explained is nothing more than a very large and well-behaved chicken, and that nuggets could be made from it, should our government feel it necessary.
But my children don't care.
At some point, exactly 94.33 percent of American parents face this challenge of getting their children to eat more interesting food, for fear of their children's DNA being slowly replaced by chicken DNA, and the other 5.67 percent of parents are either lying or have mistaken their dogs for children. The problem has nothing to do with the holidays, but the holidays are when the problem becomes more pronounced, more obvious, because distant relatives are wondering why your children are celebrating the birth of Jesus with leftover Chick-fil-A waffle fries.
So a few years ago, I decided to do something about it.
I would get our children to eat strange new foods.
I would make it a game. An event.
I found my idea in the first issue of Lucky Peach, David Chang's food magazine for people who hate food magazines. The theme was ramen. The noodles. The issue went on and on about all the fun things one could do with ramen, things involving butter and pork and eggs and such, and I thought, My kids would eat this.
It's noodles.
They like noodles.
Maybe they would like the other stuff around the noodles, too.
So I showed them the magazine.
"You guys want to have a cooking party?" I said.
"Yes!" they said.
They say yes to almost any question I ask, if I ask it in a fun way.
"You guys want to write a play about the endoplasmic reticulum?" I could say.
"Yes!" they would say.
So we planned our cooking party.
I decided we should have it sometime during the holidays, because they're out of school, and because we have so few family holiday traditions, since we don't do the thing with the elf that sits on the shelf, because we don't worship Satan, and the elf seems like he probably knows Satan.
I sat there on the couch, looking for a theme that could give narrative cohesion to our ramen noodle party when I saw a commercial for a Pre-Thanksgiving Day Sale at Macy's, and I decided: That will be our theme.
Pre-Thanksgiving.
Thus was born the Annual Key Family Pre-Thanksgiving Day Experimental Ramen Noodle Festival, which we hold on the Saturday before Thanksgiving. We made it into a big family event. It was sort of like a treasure hunt. We sat down. We made a plan. We built a menu. The only rule was, it had to include ramen.
So we went to the grocery store and got what we needed, including fish sauce, which frightened them a little, once they gathered that this sauce made of fishes would be in the thing they were going to eat. But it was fine. It was fun. It was a game. Find the fish sauce!
"What's in fish sauce?" they asked.
"Chicken nuggets," I said.
We made our ramen dish, and we had great fun cooking it, and they sort of liked it.
The next year, we cranked it up a few rhetorical degrees with the Second Annual Key Family Pre-Thanksgiving Day Experimental Ramen Noodle Festival—Tie Land Adventure, which featured a red curry Thai dish with ramen. We also decided to wear bowties while we cooked.
Thai.
Tie.
You get it.
"We don't get it," they said, and so I explained the nature of puns and the history of double meanings in the titles of the great works of American literature, while they pretended to care. They ate most of the Thai dish. We were making progress.
Then this year, our third, something bad happened.
We couldn't do it before Thanksgiving.
So we changed its name, just this once, to the Annual Key Family Pre-Christmas Experimental Ramen Noodle Festival. As before, I invited the children to invent a theme. They attend a classical school, with heavy emphasis on studying perfectly lovely and useless subjects, like Latin and the History of Antiquity, which is how we came up with our theme.
"Let's do a Roman Empire theme," my eight-year old said.
"Let's do a Star Wars theme," my six-year old said.
And then it hit us.
The Roman Empire Strikes Back.
"Yeah!" my four-year old said, because we seemed excited.
Roman. Rome. Italian. We would have Italian food. And we needed to include ramen, because those are the rules, and wow: We found a recipe for gnocchi, an Italian dumpling, made with pulverized ramen.
"Are Italians also Romans?" my daughter asked.
"Some of them are," I said.
And that got the ball rolling.
"Ooh!" one daughter said. "We can have a Julius Caesar salad!"
The Annual Key Family Pre-Christmas Experimental
Ramen Noodle Festival—The Roman Empire Strikes Back
The chosen menu:
First Course—Julius Caesar Salad with Boba Feta Cheese•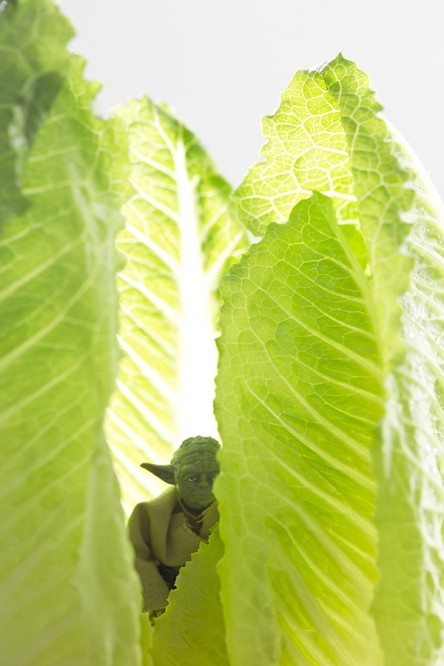 Second Course—Light-Speed Meatballs•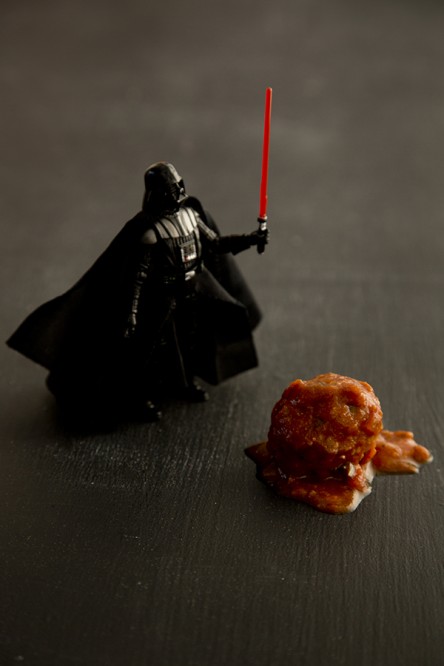 Third Course–Ramen-Style Obi-Wan-Ken-Gnocchi•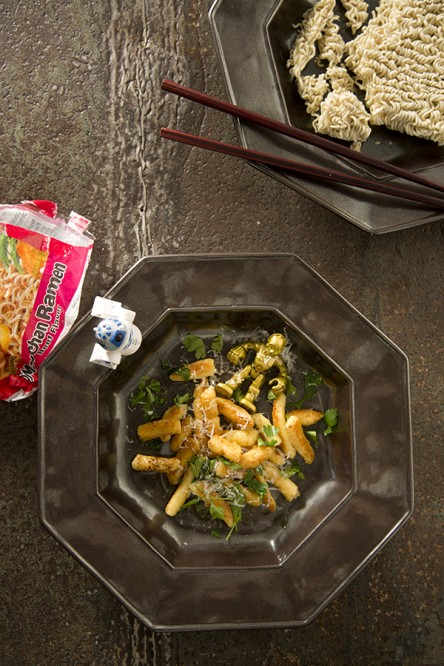 Fourth Course—Luke Nutwalker Sugar Cookies Featuring Darth Nutella•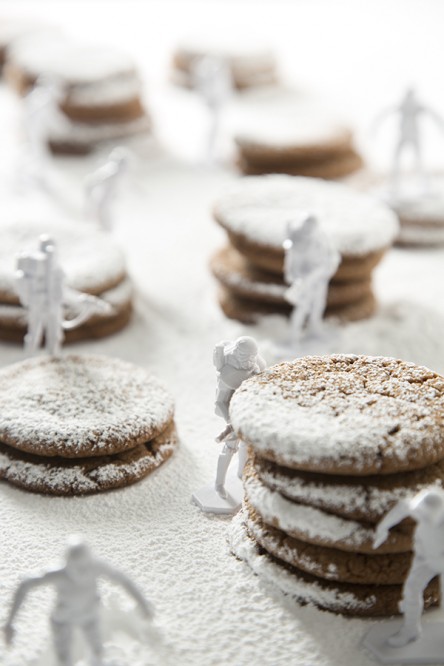 My wife has been kind enough to tolerate the mess we make every year, leaving the kitchen looking something like the Trevi Fountain after the sacking of Rome, or the Death Star trash compactor when all those people were trapped in there. She's a good sport, because she knows the children enjoy it, and because she is happy to eat food she doesn't have to cook, and the children are happy, too, as long as we stop holding them down when they eat.
Three years in, the oldest one will eat almost anything we eat, and the younger two show signs of progress. They asked for broccoli the other night.
"Are you sure?" I said.
"Yes!" they said.
And I made broccoli, and they ate it.
It was like I had powers.
Jedi powers.
And as Jedi Master Julius Caesar once said while addressing the Galactic Senate, a long time ago in a galaxy far, far away, "We came, we cooked, we conquered."
*** 
Harrison Scott Key is author of the memoir The World's Largest Man (HarperCollins), out in 2015. He teaches writing at the Savannah College of Art and Design in Savannah, Georgia. On Twitter, he's @HarrisonKey. His wife, Lauren, teaches ballet at The Habersham School, also in Savannah, where their three Jedi younglings study the ancients.

 •Recipe links and notes from Salted and Styled
Harrison's recipes are riffs on other published recipes. Below are our notes on any recipe adjustments that were made to the published versions when testing/making for the shoot. 
First Course –Julius Caesar Salad with Boba Feta Cheese (original recipe via Taste of Home) Parmesan cheese was omitted. 4 ounces of feta cheese was crumbled over the salad before serving.
Second Course –Light-Speed Meatballs (original recipe via Martha Stewart) 1 finely diced small sweet onion and 4 minced cloves of garlic were first sautéd in 1 tablespoon olive oil and added to the meat mixture before forming into balls.
Third Course –Ramen-Style Obi-Wan-Ken-Gnocchi (original recipe via David Chang) This is a great step by step and beautiful post of the recipe from Bake Me Away. We followed the recipe exactly. The only tip we would give is to make sure the water is NOT a rolling boil when you cut the gnocchi into it. The gnocchi stayed together better with just a low boil. We also found the longer you allowed it to dry before sautéing allowed it to hold up better.
Fourth Course –Luke Nutwalker Sugar Cookies Featuring Darth Nutella (Recipe via Kirbie's Cravings) Cookies baked up perfectly. We found that they hardened rather quickly so we would encourage an immediate gratification eating if you like a soft chewy cookie! Cookies were dusted with powdered sugar once they cooled slightly.
Libbie's Food Styling Props: I can't tell you how much fun we had with this shoot. Getting a small Yoda toy to stay in the perfect place in the middle of a head of romaine is a Jedi Master feat. All Star Wars figures (and we know they aren't the right ones for the recipe names…so just let it go Patton Oswalt) are from Toys-R-Us. Pewter bowls from Juliska.
THANK YOU!!! We can't thank Harrison and Lauren Key enough for allowing us to come into their home the Saturday before Christmas, for creating three beautiful and willing daughters (not in the sorority girl kind of willing way) and for helping us recognize that it takes a heavy measurement of humor to make a recipe exceptionally delicious.