Recipe and Styling by Libbie Summers
Photography by Chia Chong
Assisted by Candace Brower 
Let this spicy pear cake be the sparkly pants of your holiday dinner parties!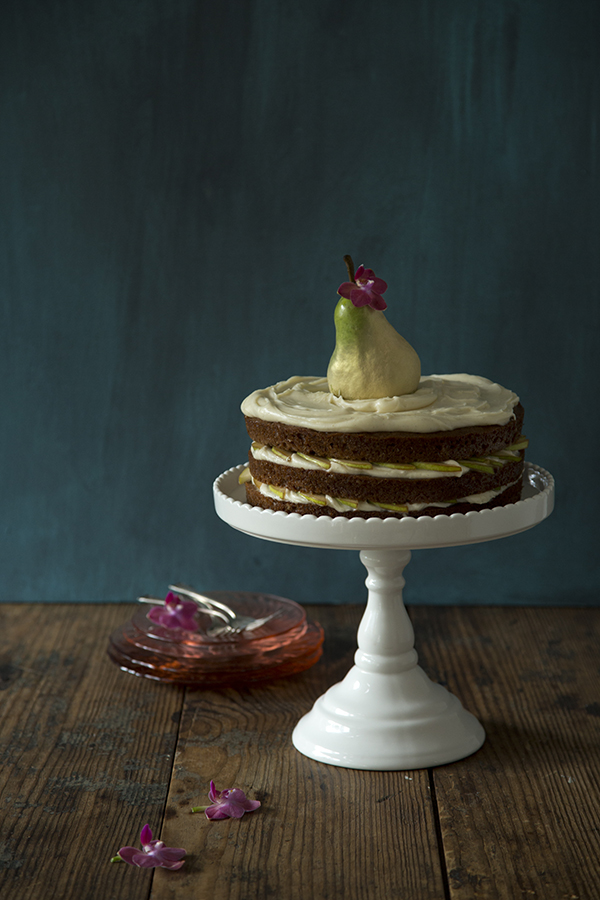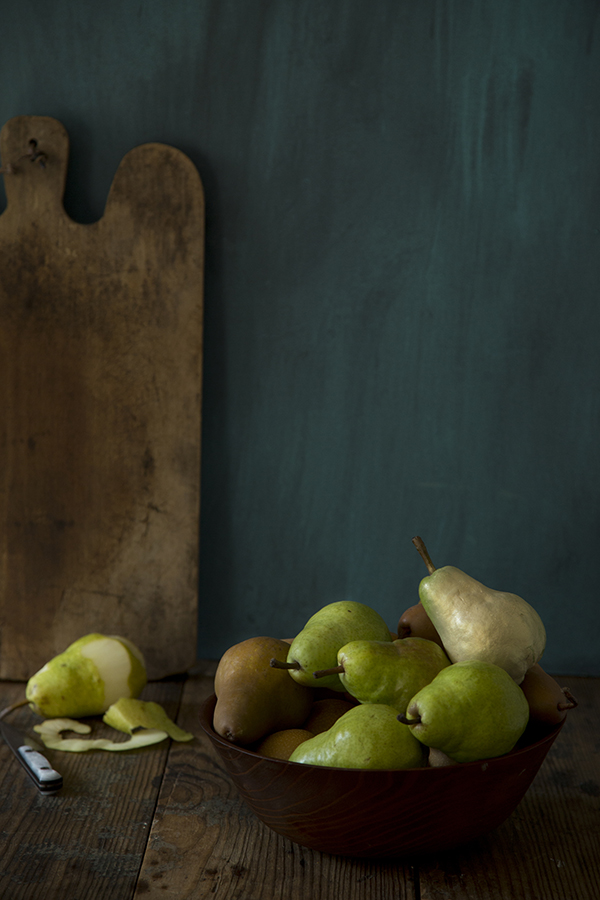 Naked Pear Cake with Ginger Frosting
serves 10-12
Ingredients:
For Cake
2 cups all purpose flour
1 1/2 cups vanilla sugar (can substitute regular sugar)
2 teaspoons baking soda
1 teaspoon salt
2 teaspoons ground cinnamon
3/4 teaspoon ground nutmeg
3/4 cup vegetable oil
2 large eggs
1/3 cup whole milk
1 1/2 teaspoons vanilla paste (can substitute vanilla extract)
3 cups coarsely grated peeled Bosc pears (from about 3 pounds), well drained
3 firm Bosc pears (2 for filling and 1 for garnish on top of the cake)
2 tablespoons butter 
For Frosting
2 8-ounce packages cream cheese, room temperature
1/2 cup (1 stick) unsalted butter, room temperature
1 cup powdered sugar
2 teaspoons vanilla paste (can substitute vanilla extract)
1 teaspoon ground ginger
Directions:
For cake:
Preheat oven to 325°F. Prepare four 9-inch round cake pans with non-stick cooking spray and set aside.
In a large mixing bowl, whisk flour, sugar, baking soda, salt and spices. Make well in center of flour mixture. Add oil, eggs, milk and vanilla; whisk just until evenly moistened. Fold in pears and divide mixture between pans.
Bake cakes until tester inserted into center comes out clean, about 20 minutes. Cool cakes in pans on racks completely before frosting.
While cakes are cooling. Core and thinly slice 2 of the remaining pears (leave skins on). Add 2 tablespoons butter to a large skillet over medium heat and sauté the pears just until slightly tan in color around the edges (the pears will still be a bit firm). Set aside.
For Frosting:
In a standing mixer fitted with a paddle attachment, beat cream cheese, butter, powdered sugar, vanilla and ground ginger until fluffy. If frosting is very soft, chill until firm enough to spread.
To Frost: Remove cake layers from their pans. Place 1 cake layer, on a cake stand. Spread with frosting just to the edges. Using half the sautéd pears, place a layer of on the frosting working from the outside in and layering decoratively. Top with second layer. Frost  to the edges and repeat with the remaining pears. Top with the final layer of cake and frost the top. Do not frost the sides of the cake. Place the remaining pear on the top of the cake and serve!