Recipe and Styling by Libbie Summers
Photography by Chia Chong
Assisted by Candace Brower
It's holiday cookie time! These addictive pear cookies MUST be added to your holiday cookie list (make two batches…keep one and gift one).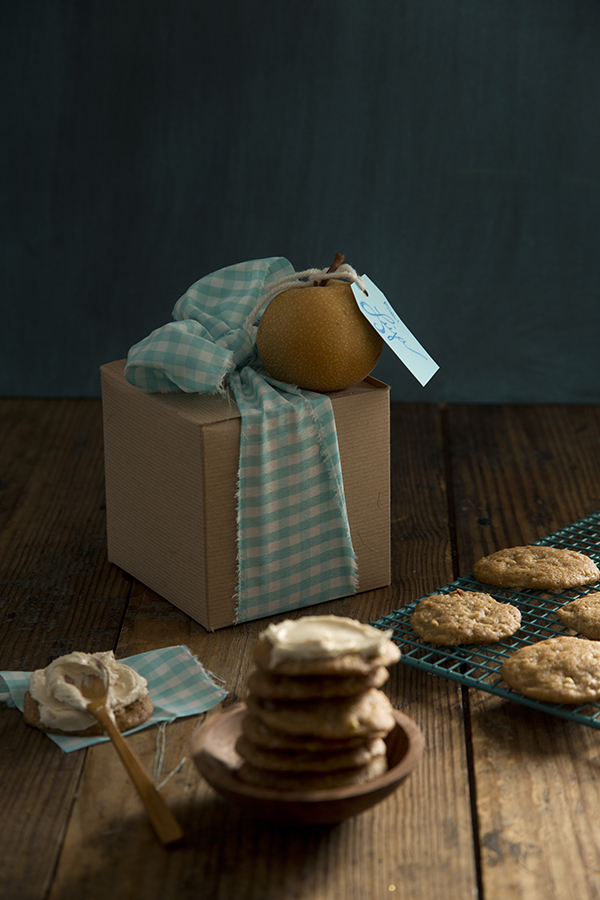 Pear Spice Cookies
makes 3 dozen
Ingredients:
For Cookies:
2 1/2 cups all-purpose flour
½ teaspoon baking soda
1 teaspoon pumpkin pie spice
½ teaspoon salt
½ cup butter, softened
2/3 cup sugar
2/3 cup dark brown sugar
2 ripe pears, peeled and finely chopped
¼ cup pear nectar
1 large egg
For Caramel Frosting (optional):
1/2 cup organic butter, at room temperature
12 ounces organic cream cheese, at room temperature
1/2 teaspoon organic vanilla paste
2 cups organic confectioners' sugar, sifted (sifting is a must!)
Preheat oven to 375º F. Line a baking sheet with parchment paper and set aside.
In a medium bowl, whisk together the flour, baking soda, pumpkin pie spice and salt. Set aside.
In the bowl of a standing mixer fitted with a paddle attachment, add the butter and sugars and beat on medium speed until fluffy (scrape down bowl as needed). Add pear nectar and egg and continue to beat until fully combined. Reduce speed to low and slowly add flour mixture until fully combined. Refrigerate for 30 minutes. While dough is refrigerating. Prepare the frosting if desired.
In the bowl of a standing mixer fitted with the paddle attachment, cream together the butter and cream cheese. Add the vanilla paste and mix thoroughly. Add the confectioners' sugar 1 cup at a time, beating until each addition is incorporated before adding the next. Scrape down the bowl as needed. Use immediately. If the frosting becomes too soft, pop it in the refrigerator for 20 to 30 minutes, until it is a spreadable consistency. Frosting can be made ahead and stored in the refrigerator for up to 1 week.
Scoop rounded teaspoons of cookie dough onto the prepared baking sheet leaving 2-inches between. Bake until completely set (approximately 10-13 minutes). Repeat with the remaining cookie dough.
Allow cookies to cool before frosting if desired.