Photography by Chia Chong
Styling by Libbie Summers 
Now officially in the throws of Summer, we're always looking for a delicious way to cool down that doesn't involve putting on a bathing suit. Here are a few of our favorites.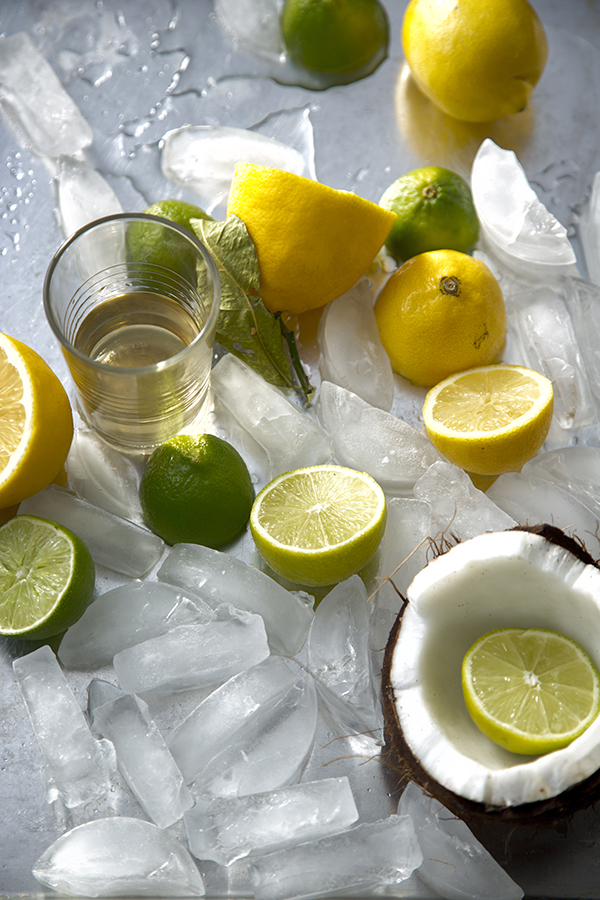 Coconut Margarita
makes 2
Ingredients:
Lime and flaked coconut to line the rims of two short glasses
3 cups ice, divided
Juice from 2 limes and 2 lemons (or enough for 4 ounces of juice)
4 ounces gold tequila
2 ounces coconut water simple syrup (equal parts coconut water and sugar heated together until the sugar dissolves, then cooled)
Flake salt for garnish
Directions:
Run the cut side of a lime around the rim of two 8-ounce glasses and dip each rim into coconut flake. Add one cup ice to each of the glasses and the remaining cup to a cocktail shaker. Add the citrus juice, tequila and simple syrup to the shaker and shake vigorously. Strain into the two glasses and garnish with a sprinkle of salt on top.
••••••••••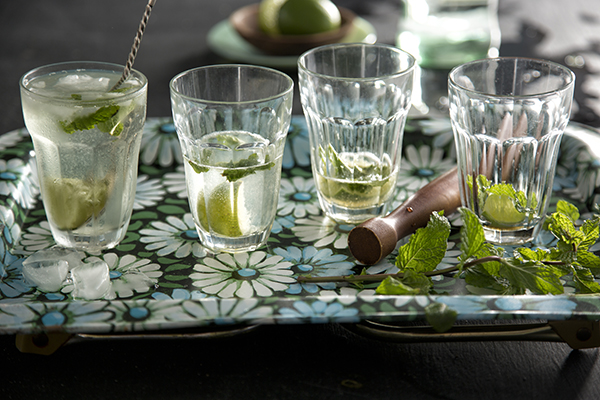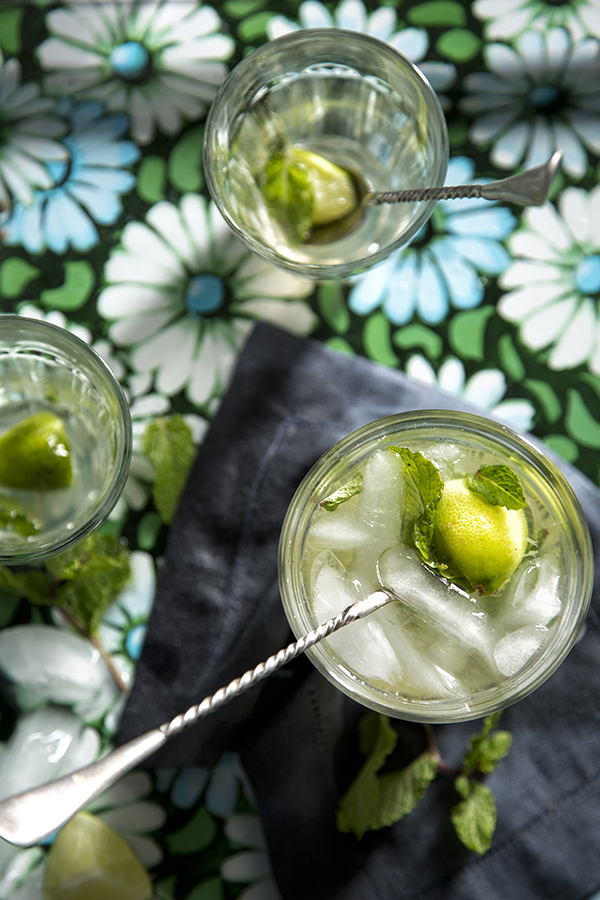 Luis' Havana Mojito
Looking at the photograph, and working right to left gives you an idea of the proportions in this drink.
Step 1: Muddle together, 1 wedge lime, 3 mint leaves and 1 teaspoon turbinado sugar
Step 2: Add sparkling water
Step 3: Add rum (yep, that's a lot of rum)
Step 4: Fill with water and a little ice and stir.
••••••••••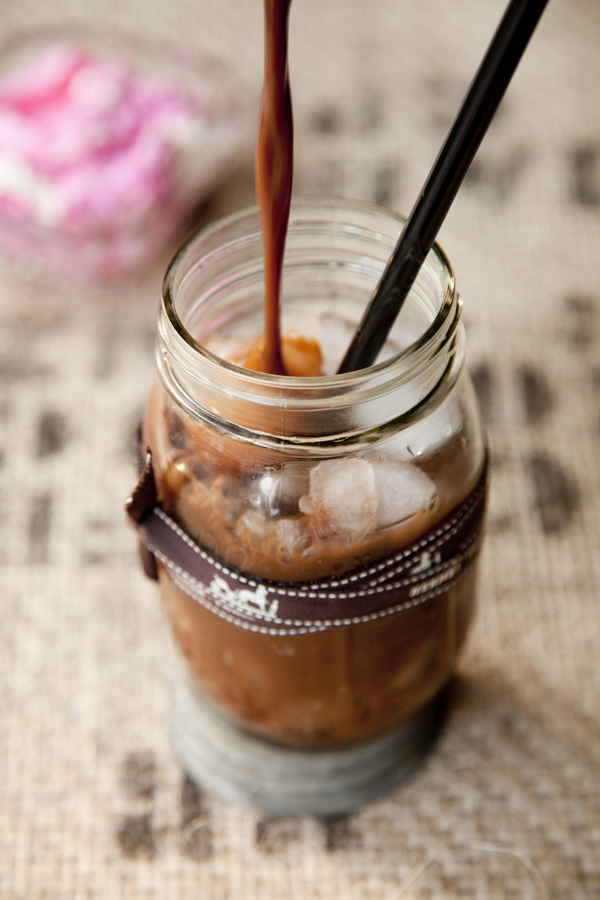 Iced Malted Cherry Coffee
(a dessert coffee drink)
serves 2-4
Ingredients:
1 cup freshly brewed coffee, very strong
3/4 cup malted milk powder, plus more for garnish
1 teaspoon cherry juice (yes, THAT cherry juice)
Freshly whipped cream for garnish (we tinted ours pink because we're girls and we can) 
Directions: 
In a large Mason jar, add hot coffee and malted milk powder. Place the lid on the jar and gently shake the contents until the malted milk powder is dissolved. Place jar in the refrigerator to cool for 30 minutes. Remove from refrigerator and add cherry juice. Shake again. Pack two glasses with ice and pour coffee mixture over. Garnish with a dollop of freshly whipped cream and a dusting of malted milk powder. Serve immediately.
••••••••••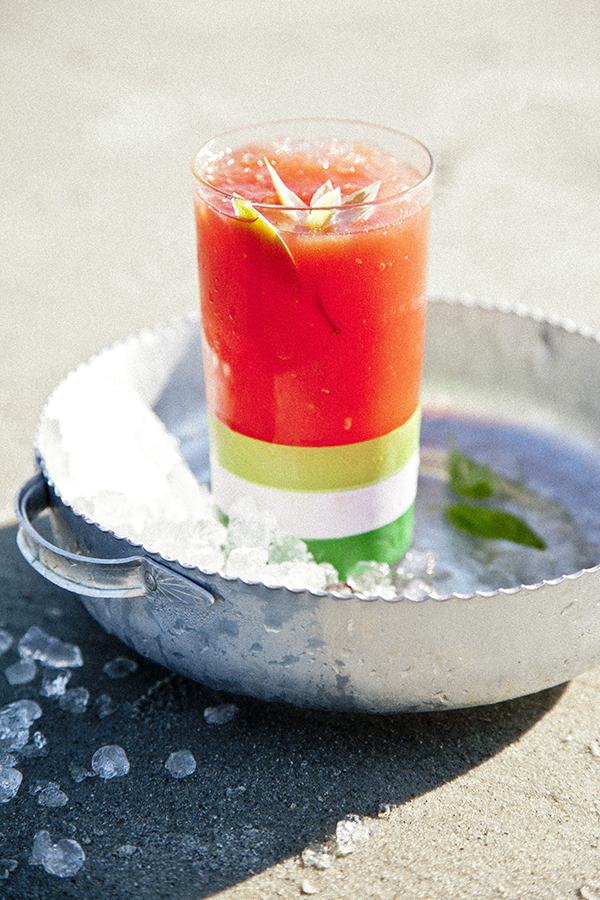 Watermelon Basil Beach Blaster
Serves: 6 
Ingredients:
1 cup Turbinado sugar (can substitute white sugar)
1 cup water
8 large basil leaves, plus more for garnish
3 pounds ripe seedless watermelon, rind removed and the flesh cut into pieces
½ cup (or more) vodka (optional)
½ teaspoon sea salt
Directions:
In a small saucepan over medium-low heat, stir together the sugar and the water. Bring to a low boil and cook just long enough for the sugar to completely dissolve. Remove from heat and stir in basil leaves. Place mixture in the refrigerator for a minimum of two hours or overnight. Remove basil leaves.
In a blender, puree the watermelon pieces (at this point you can strain the puree and discard the solids, but I like a thicker blaster so opt not to strain it). Pour into a pitcher and stir in basil infused simple syrup and vodka if you're feeling cheeky. If mixture is a bit too thick, you can add enough cold water to reach the consistency you like.
Pack six glasses with crushed ice and pour mixture over. Garnish with fresh basil and a pinch of sea salt. Serve fast.
••••••••••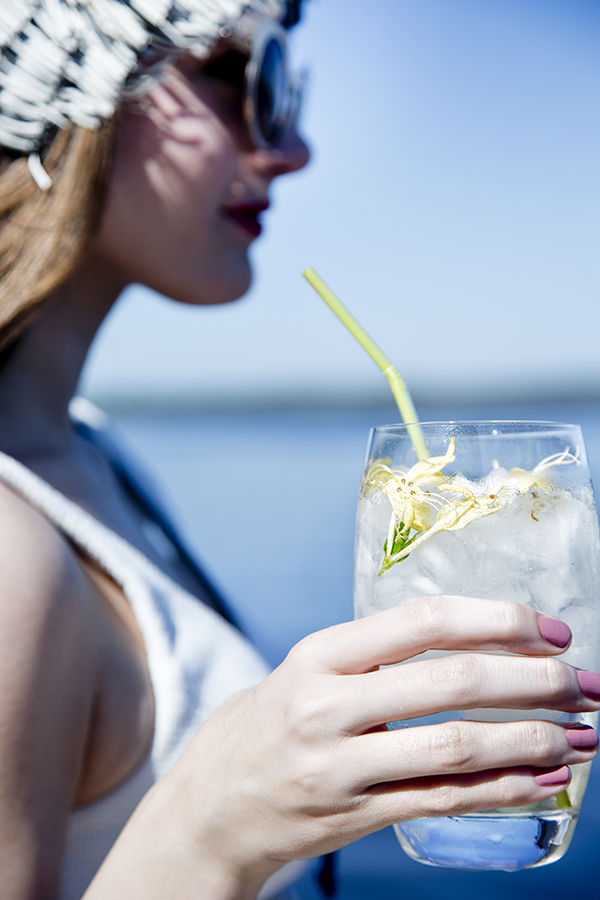 Honeysuckle Spritzer
makes 1
Ingredients:
1 jigger Vixen Vodka (or your favorite vodka)
Long splash honeysuckle syrup (RECIPE HERE)
Soda Water
Honeysuckle blossoms for garnish
Directions:
Pack a tall glass with ice. Add honeysuckle syrup and vodka. Top off with soda water and stir. Garnish with honeysuckle blossoms and serve.
Libbie's Food Styling Props: (recipes top to bottom)
• Shot on a sheet tray with ice from the freezer (some allowed to melt a little), glass from Canvas Home.
•• Shot on a black table. Vintage flower tray purchased from Habersham Antiques Market, Glasses from Williams Sonoma, turned handle silver ice tea spoons from a junk shop in Los Angeles (I don't remember the name), linen Sferra beverage napkin from Number Four Eleven.
••• Burlap Coffee Bag I poached from Perc coffee while we were there doing a podcast, Vintage Mason Jar with Zinc lid purchased from Habersham Antiques Market, Hermes Ribbon from where else, Vintage silver iced tea spoon purchased from an Antique shop in Annapolis, MD that I can't remember the name of (it's on Maryland Avenue and the owner is British), black straw liberated from a coffee shop in North Carolina that I would rather not mention since their significant straw loss could be traced back to me.
•••• Glasses are vintage Georges Briard and one of those finds that made me jump up and down when I saw them at Habersham Antiques Market. I paid $1 a piece for them (sadly, they only had 4…I'm looking for 8 more if anyone has them)! The tin dish is the bottom of a vintage serving dish that I picked up at a junk store in Montana for $2.
••••• Model, Lauren Davis, is wearing a vintage bathing suit was a gift from my friend, Wendy Davis. Vintage Swimming Cap property of Brooke Atwood. Glass from Homegoods. Straw from grocery store (Kroger).