Photography by Chia Chong
Styling by Libbie Summers
Recipes by Libbie Summers and Brenda Anderson
Models: (in order seen) Anna Heritage, Candace Brower, David Bucey
The mercury is going up and these recipes are cold going down! Cool off this summer with some of our favorite Ice Cold and Delicious Summer Desserts! 
Number 1: Adult Popsicles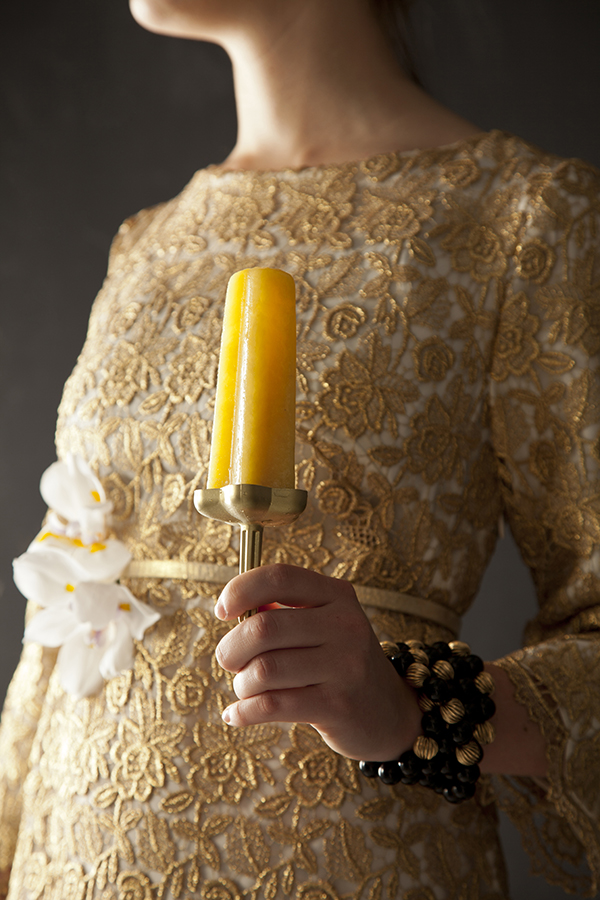 Adult Popsicles
(lillet, mango, banana)
makes 12 pops
Ingredients:
1 cup mango puree (about 2 mangoes)
2 ripe bananas
1 cup freshly squeezed orange juice
1 cup sugar (I use vanilla sugar)
1 cup Lillet  (a brand of French aperitif wine)
1/2 cup water
12 popsicle molds
Directions:
Add all the ingredients into a blender and puree until smooth. Pour into popsicle molds and freeze overnight.
Number 2: Coconut Frozen Custard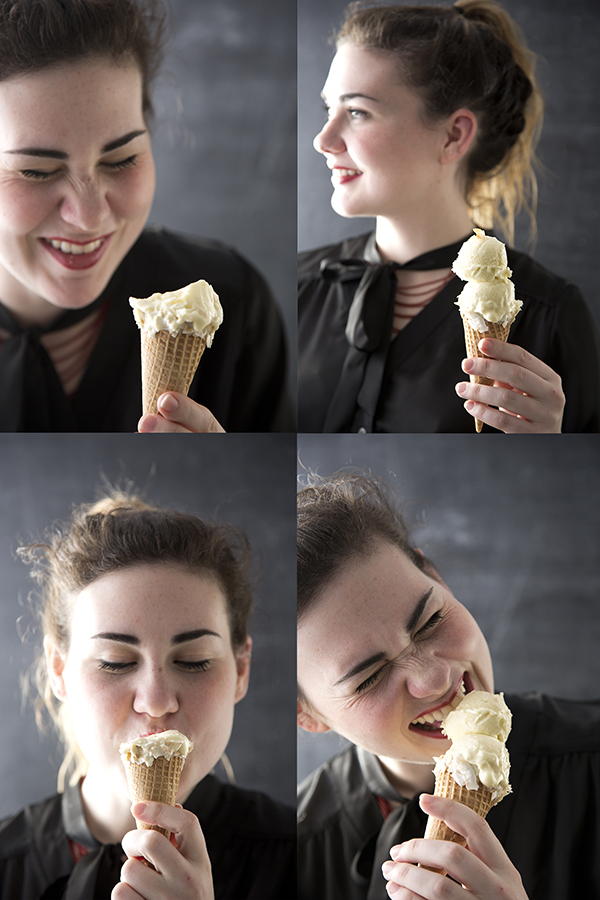 Coconut Frozen Custard
serves 4
Ingredients:
4 egg yolks
½ cup sugar
8.5 oz. can cream of coconut
1 cup half and half
1 1/2 teaspoons coconut extract, divided
½ cup grated sweetened coconut
2 cups whipping cream
¼ cup powdered sugar
4 ice cream cones with rims dipped in melted white chocolate and then toasted coconut (allow to dry before topping with a scoop of frozen custard)
1 cup shaved coconut, toasted
Directions:
In a heavy sauce pan over medium heat beat egg yolks until thick and lemon color. Add sugar slowly while continuing to beat. Once sugar is well combined add cream of coconut, half and half and 1 teaspoon of coconut extract. Whisk continuously and bring to a boil. Reduce heat and continue whisking until mixture is thick and coats the back of a metal spoon. Pour into a large glass bowl to cool. In a mixing bowl add whip cream and beat with hand mixer until just beginning to set. Add powdered sugar and 1/2 teaspoon coconut extract. Whip to a soft peak. Once the egg mixture has become room temperature, fold in whipping cream. Pour into an 8 x 10 pan and cover with plastic wrap. Freeze until firm. Scoop onto coconut dipped cones.
Number 3: Adult Cherry Coke Float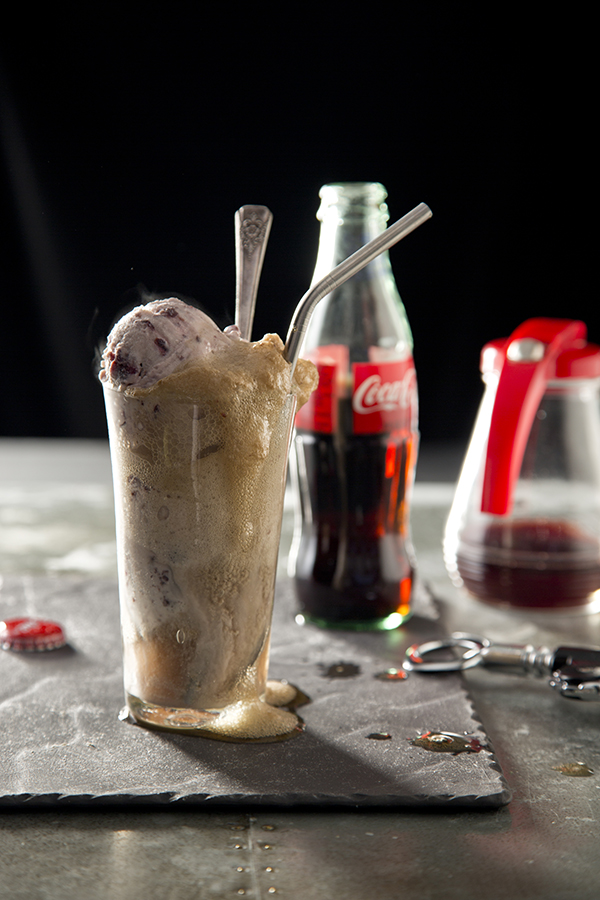 Adult Cherry Coke Float
makes 4 
Ingredients:
1 (12 ounce) package of frozen pitted sweet cherries
2 cups Goslings Black Seal rum
1 quart vanilla bean ice cream, slightly softened
4 (6 ounce) bottles Coca-Cola  (don't even use anything else), ice cold
4 tablespoons Cherry Verenya Syrup (recipe HERE), can substitute cherry juice
Directions: One day ahead, prepare the drunken cherries by placing the cherries and rum in a large jar with a screw top lid. Shake to coat the cherries. Place in the refrigerator overnight.
Drain the cherries, reserving liquid, and stir into the ice cream. Pat the ice cream into a shallow dish and freeze until hardened.
Number 4: Homemade Strawberry Ice Cream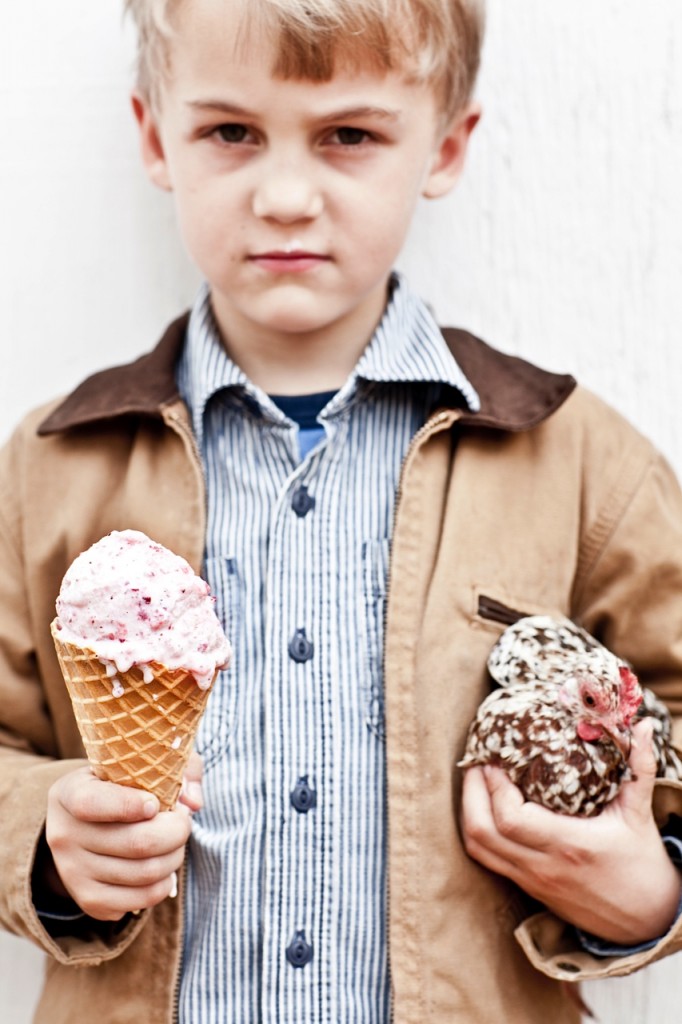 Homemade Strawberry Ice Cream
Ingredients:
2 quarts heavy cream
1 vanilla bean
6 large egg yolks
1 cup sugar
1 tablespoon lemon zest
1 quart fresh strawberries, washed and hulled
Prepared waffle ice cream cones (optional)
Directions:
In a heavy sauce pan over medium-low heat, add the heavy cream. Split the vanilla bean down one side and scrape out all the seeds into the heavy cream. Drop bean into the cream. Bring the mixture to a simmer for 5 minutes, stirring frequently. In a medium mixing bowl, whisk the egg yolks with the sugar until completely combined and smooth (mixture will be thick). Remove the vanilla bean from the heavy cream. Temper the egg yolk mixture by slowly whisking in 1 cup of the hot heavy cream. While still over a medium-low heat, gradually whisk the tempered egg yolk mixture into the heavy cream. Continue to cook, stirring constantly, until the custard thickly coats the back of a spoon (about 5 minutes). If lumpy, strain through a double layer of cheesecloth or a fine mesh strainer. Stir strained mixture until just cool then cover and place in the refrigerator until completely chilled (about 2 hours or overnight).
Cut the strawberries into quarters and divide in two. Set one half aside. Place the other half in a blender with the lemon zest and puree until nearly smooth (you can add a couple of tablespoons of the chilled custard to the strawberries for easier blending). Stir the pureed strawberry mixture into the chilled custard and freeze in an ice cream machine according to the manufacturer's directions until set but still a little soft. Stir in remaining strawberry quarters, cover and freeze until completely set (about 2 to 4 hours). Scoop into bowls or on a waffle cone and serve.
Yields: About 2 quarts
Prep Time: 20 minutes
Cook Time: 10 minutes
Inactive Time: 7 hours
Difficulty: Easy, but it does take an extra shot of patience.
Libbie's Food Styling Props:
Number 1: Star pop molds I purchased at Bed Bath and Beyond and spray painted the handles gold. Anna is wearing a Milly dress given to me by my fashionista friend Sydney. Bracelet is a vintage necklace. Skinny gold belt from Custard Boutique. Flowers are from my yard.
Number 2: 1 piece of plywood painted with chalkboard paint for a background, 1 cute assistant, Black silk shirt from Custard Boutique, necklace is vintage cinnabar from a cool vintage shop in Seattle that I can't remember the name.
Number 3: Surface is a piece of slate from Sur La Table and zinc from Bastille Metal Works, Glass from Williams-Sonoma, Vintage iced tea spoon I picked up somewhere in California, metal straws were a gift from Brenda Anderson, Bakelite syrup pitcher from Downtown Antiques in Bozeman, Montana.\\
Number 4: One ADORABLE boy who's not so sure about the chicken and not happy he had to wait to eat the ice cream. Shot up against an old wooden building painted white. Note: David is the son of our own uber-talented artist in residence katherine sandoz.