Recipe and Styling by Libbie Summers
Photography by Chia Chong
Fashion Styling by Brooke Atwood
Model: Lauren Davis
Production Assistant: Candace Brower 
Sweetness from the chocolate coupled with the flowery flavor of a melted honeysuckle butter trailing over the top and down the side of each warm pancake gives us goosebumps and makes us want to get on a swing and go as high as we can!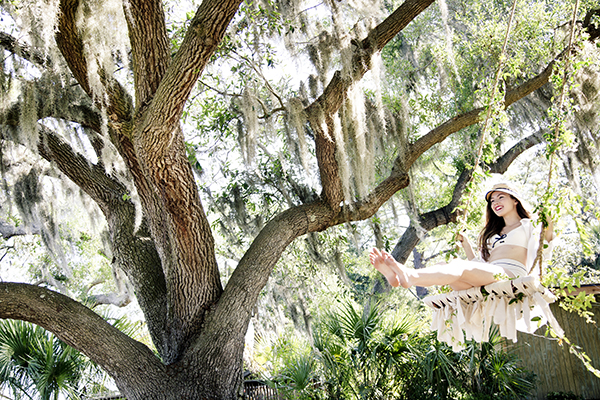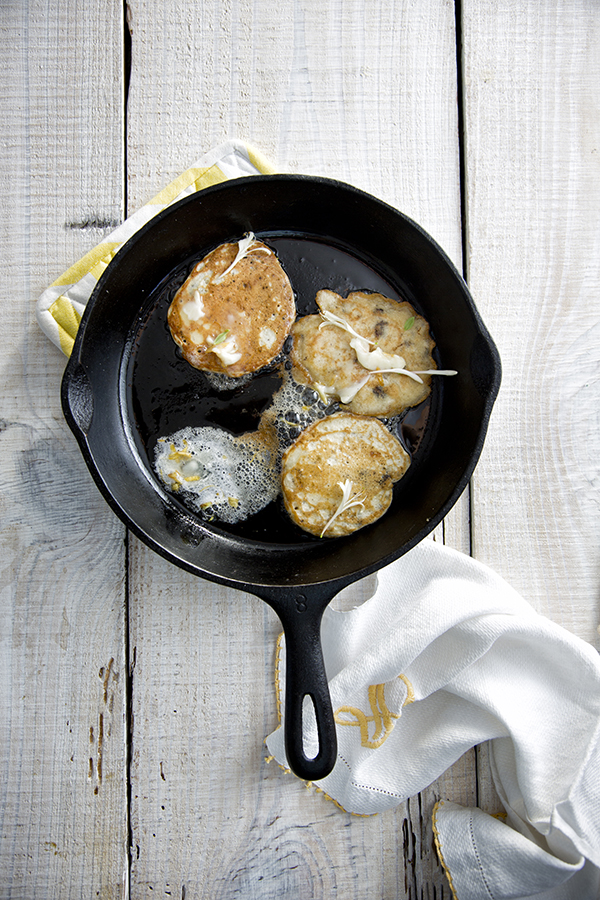 Chocolate Chip Pan Biscuits with Honeysuckle Butter
makes 8-12
Ingredients:
2 cups cake flour
2 tablespoon baking powder
4 teaspoons sugar
½ teaspoon salt
1 ½ cups milk
2 eggs
½ teaspoon vanilla paste
3 tablespoons melted butter plus more for pan
¼ cup chopped dark chocolate
Honeysuckle Butter (recipe to follow)
Honeysuckle blossoms for garnish (optional)
Powdered sugar for garnish (optional) 

Directions:
In a small mixing bowl, whisk together the flour, baking powder, sugar and salt. Set aside.
In a medium mixing bowl, whisk together the milk, eggs, vanilla and melted butter. Stir in the flour mixture until just mixed in (batter will be lumpy). Fold in the chocolate.
Heat a large skillet or griddle and brush with melted butter. Drop spoonfuls of the mixture into the pan and cook like you're making a pancake, but don't flatten them down (BTW, never flatten a pancake either). These will be much more bread like inside. Remove to a plate and keep in a warm oven. Continue process until all the batter is used. Serve warm with Honeysuckle Butter melted over the top. Garnish with honeysuckle blossoms and powdered sugar if desired.
Honeysuckle Butter
yields ½ cup
Ingredients:
½ cup good quality unsalted butter, room temperature
1 teaspoon honey
2 tablespoons honeysuckle flowers
Directions:
Mix all ingredients together. Store in the refrigerator when not using.