Words and Photography by Chia Chong
Styling by Libbie Summers
Wine Pairing by Grapefriend 
Whenever I make a pot of seaweed soup, I save the konbu and wakame seaweed to make this super easy and delicious salad. You can get dry seaweed at any Asian grocery store. Here, I chose 3 varieties commonly found in the States for their unique combination of texture and taste.
It is good to know that a little dry seaweed goes along way after it's been reconstitute. So play around and find the type of texture and taste you prefer, adjust the ratio or omit any variety that you do not care for. It's a democratic dish.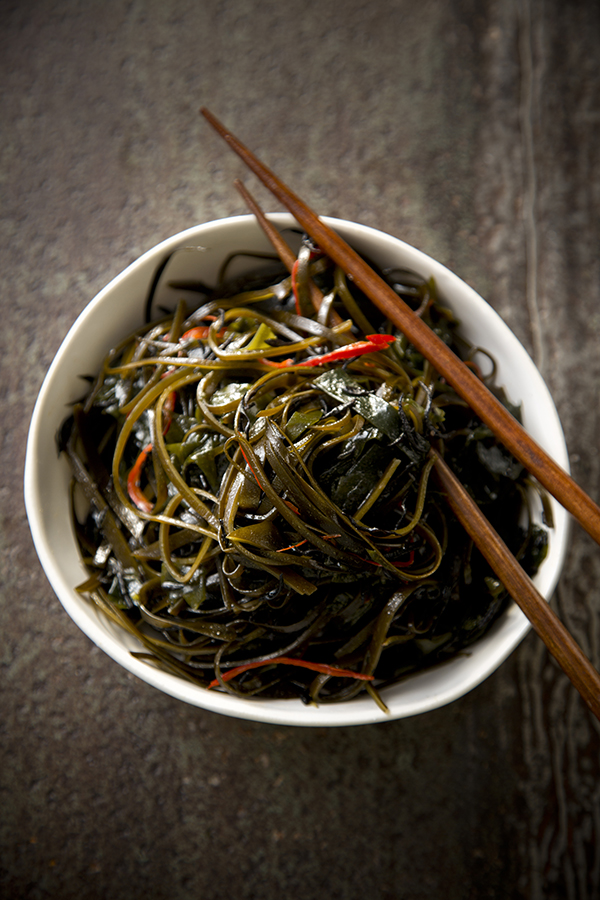 Seaweed Salad
(a democratic salad)
serves 4 
Dry ingredients:
2 8 x 8 inch sheets of dry konbu seaweed
1 small handful of dry wakame seaweed
¼ cup hijiki
1 dry chili pepper or small sprinkle of red pepper flake
Seasoning ingredients:
2 tablespoons soy sauce
2 teaspoons rice vinegar
2 teaspoons sesame oil
2 teaspoons sugar
Directions:
Rinse konbu, wakame and hijiki separately in cool running water. In a 3-quart soup pot, combine 5 cups water with konbu and wakame, bring the water to a simmer with high heat. Turn off the heat and let the seaweed steep for 10 minutes. Use a spider to remove and drain the seaweed. Set the seaweed aside to cool. (I usually save this step of steeping liquid for my seaweed soup.)
In the same manner, combine 1 cup of water with hijiki, bring the water to a simmer over medium-high heat, turn off the heat and let the seaweed steep of 10 minutes. Strain the hijiki and set aside. (I usually toss this steeping liquid, for I'm not fond of the color or taste for soup.)
Soak dry chili pepper until soft with warm water, pat dry with paper towel, remove seeds and julienne. Alternately you could easily skip this step and just sprinkle some red pepper flakes when serving!
Separate konbu from wakame. Bunch wakame together and cut into 2-inch long strands. Roll the konbu sheets and julienne.
Mix seasoning ingredients in a mixing bowl until sugar dissolve. Add all seaweed and chili pepper, toss and evenly coat, serve immediately or make ahead and chill for up to 1 day.
*Great served with/over baked or steamed fish.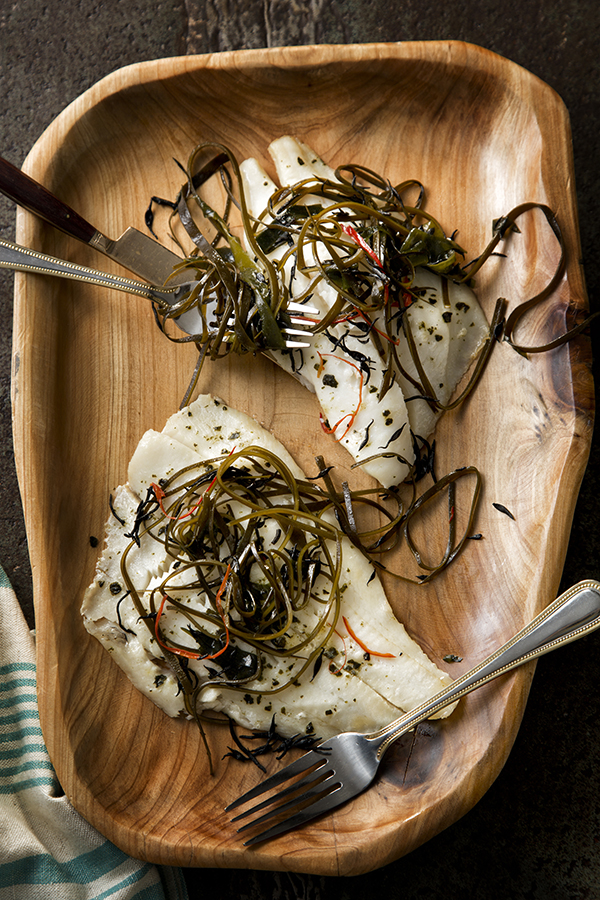 Wine Pairing: 
If it were just a wakame salad I'd go for a crisp white wine, but you'll need more body to hold up to the darker seaweeds and the chile heat. Rosé is my favorite heat-beater and a heavier one made from Cab Franc or Garnacha will complement the kombu and hijiki. 
Libbie's Food Styling Props: (top photo) Shot on a piece of rusted out metal that has been polished. Bowl is hand thrown and was purchased at Star Provisions. Chopsticks were a gift Chia brought me from Malaysia.  (bottom photo) Wooden plate, napkin and fork all from Home Goods.