Recipe by Brenda Anderson
Photography by Chia Chong
Styling by Libbie Summers
Food Stylist's Assistant and Model: Candace Brower 
A tropical brain freeze.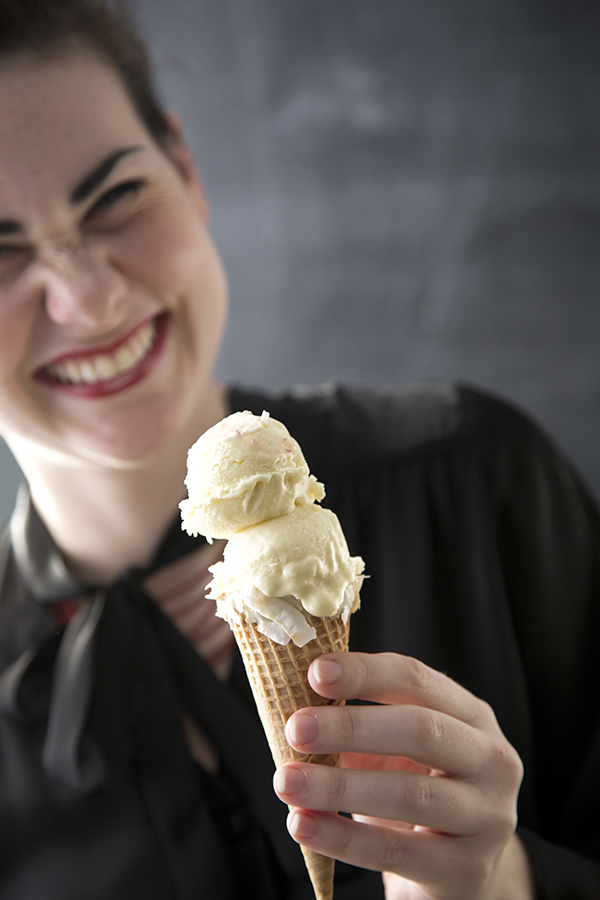 Coconut Frozen Custard
serves 4 
Ingredients:
4 egg yolks
½ cup sugar
8.5 oz. can cream of coconut
1 cup half and half
1 1/2 teaspoons coconut extract, divided
½ cup grated sweetened coconut
2 cups whipping cream
¼ cup powdered sugar
4 ice cream cones with rims dipped in melted white chocolate and then toasted coconut (allow to dry before topping with a scoop of frozen custard)
1 cup shaved coconut, toasted

Directions:
In a heavy sauce pan over medium heat beat egg yolks until thick and lemon color. Add sugar slowly while continuing to beat. Once sugar is well combined add cream of coconut, half and half and 1 teaspoon of coconut extract. Whisk continuously and bring to a boil. Reduce heat and continue whisking until mixture is thick and coats the back of a metal spoon. Pour into a large glass bowl to cool. In a mixing bowl add whip cream and beat with hand mixer until just beginning to set. Add powdered sugar and 1/2 teaspoon coconut extract. Whip to a soft peak. Once the egg mixture has become room temperature, fold in whipping cream. Pour into an 8 x 10 pan and cover with plastic wrap. Freeze until firm. Scoop onto coconut dipped cones.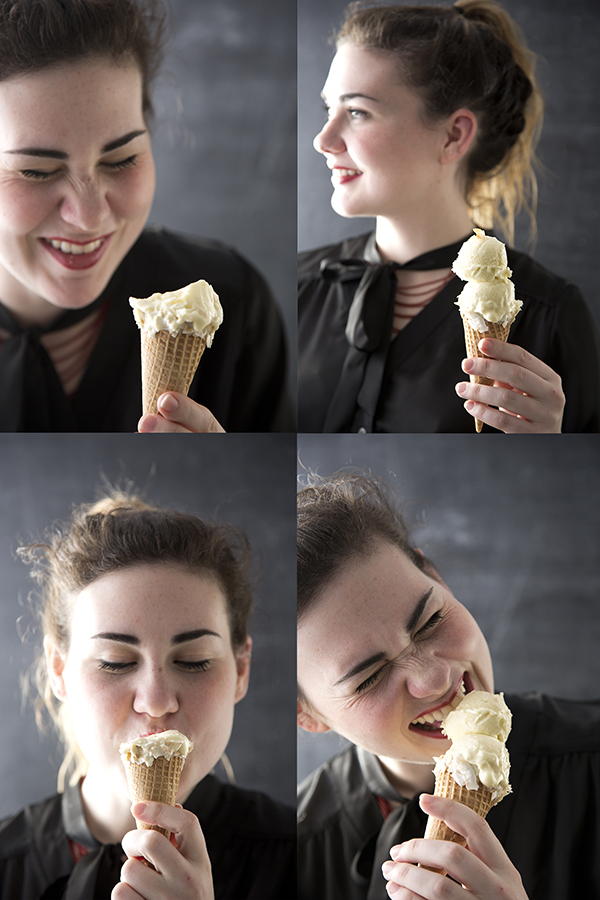 Libbie's Food Styling Props: 1 piece of plywood painted with chalkboard paint for a background, 1 cute assistant, Black silk shirt from Custard Boutique, necklace is vintage cinnabar from a cool vintage shop in Seattle that I can't remember the name.