Recipe and Styling by Libbie Summers
Photography by Chia Chong
Date night dinner sure to deliver! #wink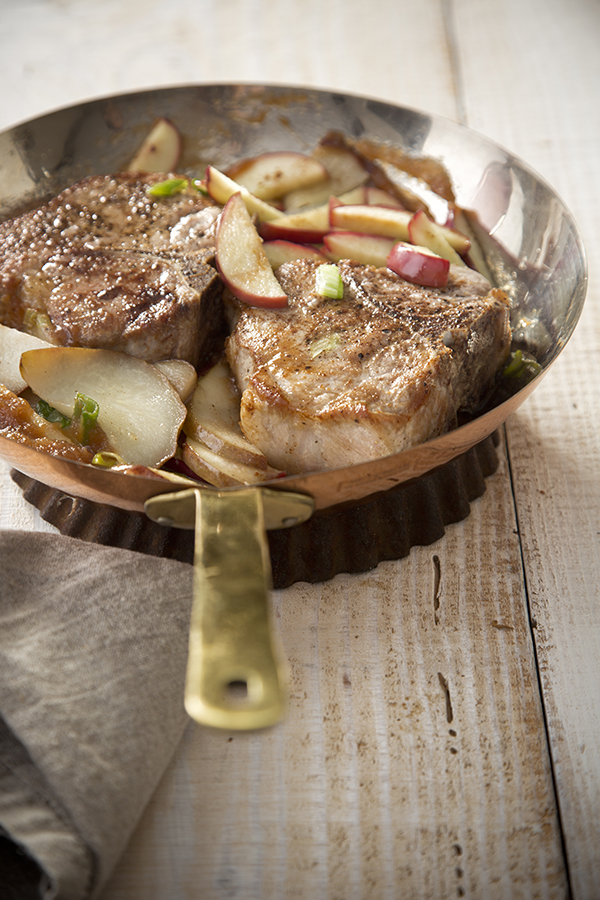 Cinnamon Pear Pork Chops
serves 2-4 
Ingredients:
2 pork chops, center-cut, bone-on, 3/4 to 1-inch thick
2 teaspoons olive oil
Kosher salt and freshly ground black pepper
1/4 teaspoon cinnamon
1/2 cup apple butter (can substitute apple sauce)
1/4 cup pork stock (can substitute chicken stock)
Dash of balsamic vinegar
1 large pear, thinly sliced
Sliced scallion for garnish
Directions:
Preheat oven to 400 degrees and place an oven-safe skillet in the oven to preheat as well.
Pat the pork chops dry with a paper towel and rub with the olive oil. Liberally coat each side with salt and pepper. Sprinkle each side with the cinnamon.  Set aside.
In a small bowl, stir together the apple butter, stock and balsamic vinegar. Add the pears and toss to coat. Set aside.
Carefully remove the hot skillet from the oven and place over a medium-high heat. Lay the pork chops into the hot skillet to sear. Sear until the undersides of the chops are just beginning to brown (about 3 minutes). The chops will hiss and smoke and pop a bit, so be careful. Flip the chops and spoon the apple butter and pear mixture over. Transfer the skillet to the oven and cook until the internal temperature reads 140-145 degrees on an instant-read meat thermometer (about 8 minutes).
Transfer the chops to a plate and spoon the pan and pears over. Garnish with scallion.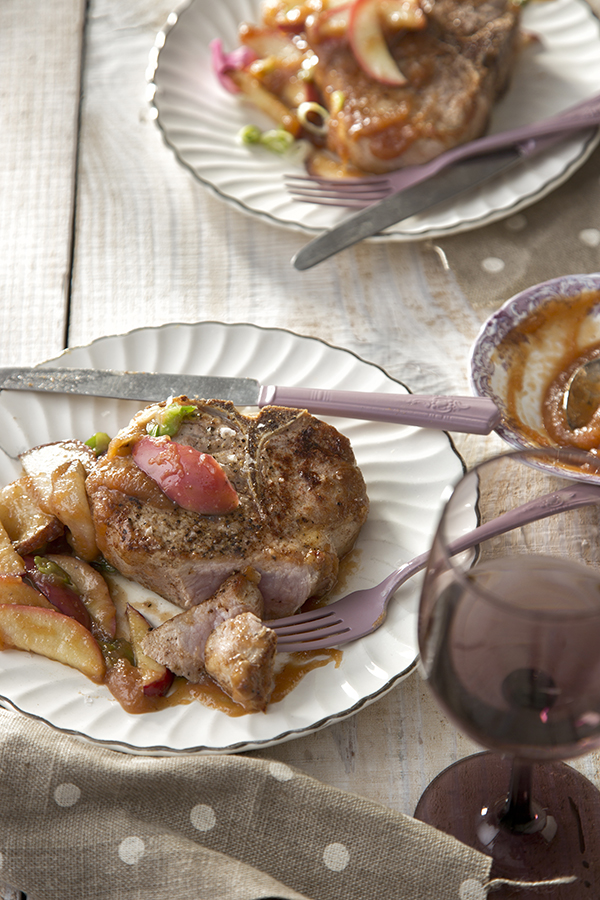 Libbie's Food Styling Props: Shot on white washed reclaimed wood from Southern Pine Company, Copper skillet picked up at Universal Trading Company for $4, Solid tan napkin from Libeco, Plates courtesy of Betty Anderson, Polka Dot Linen purchased in the small fabric section of Le Bon Marché in Paris, Purple glasses were gifted from my first assistant, Joshua Grotheer, Purple utensils from Rethink Design Studio.