Words by Andrea Goto
Recipe and Styling by Libbie Summers
Photography by Chia Chong 
I was 6 when he proposed.
John Brown was about as average as they get—right down to his name. He appeared at our school on the first day of classes, but his newness ran out by the end of the week. John had shaggy brown hair and wore khakis worn soft and thin at the knees. He smelled musty when he came in from recess; the dust from the tiny pebbles lining the playground floor settled into his skin and the hair at his temples were dark and wet from perspiration. 
I loved him, of course. Because he loved me first.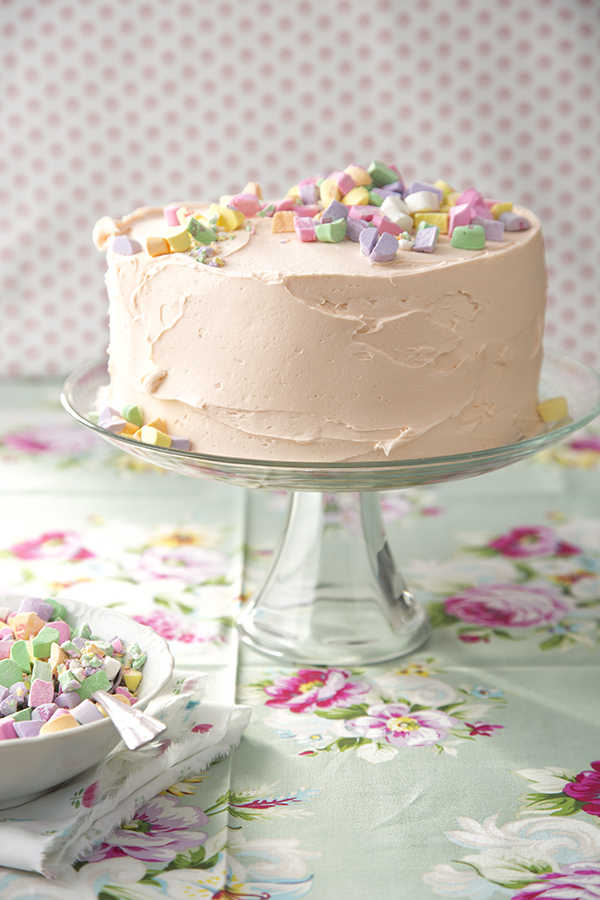 He gave me a ring on Valentine's Day. It was a square turquoise stone that reminded me of the Tiny Size Chiclets gum Mom bought me at Kmart when she could afford nothing else. It was framed by metal and attached to an adjustable band that pinched the underside of my finger when I crossed the monkey bars.
"Will you marry me?" he asked as we stuffed two-dozen perforated valentines taped with candies into a shoebox to take home so we could later analyze the handwriting for any suggestion of true love—a heart-dotted "i" or a name written in cursive with too much care.
"I have to think about it," I replied as I turned and ran out the door for home, hot and overwhelmed by the pressure.
I hid the ring from Mom because I knew she would make me give it back saying that he might've stole it from his mom, or worse yet, wasted his hard-earned allowance on it.
In my bedroom, I took the ring off and on repeatedly until my fingers were swollen and blistered. I tried it on my left hand, my index finger, my pinky, but it rested most comfortably on the finger of holy matrimony.
I walked to school the next day feeling like I had the flu. My breakfast twisted in my stomach and my cheeks were flushed. I managed to avoid John Brown until recess, even though I could feel his eyes fixed on me during the morning spelling test.
By the baseball backstop, I pulled him aside from his friends who watched us, snickering in a pack.
"I can't," is all I managed. "I'm too young."
John seemed to understand how hard it was for me to tell him this. He smiled, pretended that my rejection didn't sting, and said, "That's okay."
I turned away, self-righteous for doing what Mom would've said was the right thing, but my stomach was still twisted, my cheeks hotter than ever. The ring sat deep in the front pocket of my jeans.
John Brown acted as if nothing happened between us. He continued to chase me on the playground and never inquired about the ring. About a month after Valentine's Day, he didn't show up for school. He moved without saying goodbye.
I still have the turquoise ring. It's in my old bedroom at my parents' house, nestled in a jewelry box against a one-legged ballerina who no longer twirls when I open the lid.
Besides my husband, John Brown was the only other boy to ever give me a ring. The only other one to ask me to marry him. The only one I rejected.
There was a short string of boys after John Brown. The ones I pursued most passionately didn't love me back. The few I dated for a long term, loved conditionally.
Twelve years after John Brown, I would meet my husband. One Valentine's Day, I told him about John Brown, the ring he gave me and how I rejected him.
My husband smiled, put his arms around me and said, "That's okay."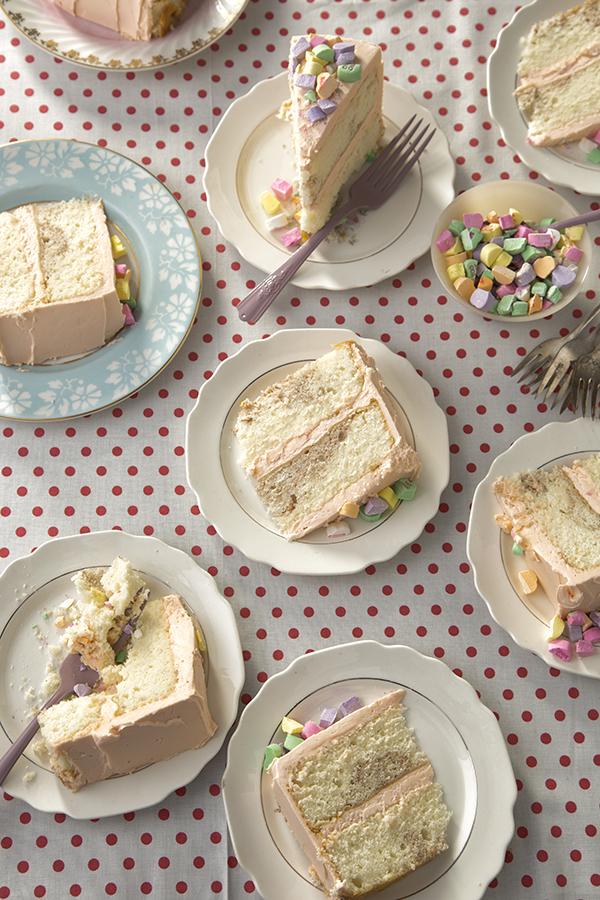 Broken Heart Cake
serves 12

Ingredients:
2 3⁄4 cups cake flour
1 tablespoon baking powder
1⁄2 teaspoon salt
1 teaspoon cinnamon
1 3⁄4 cups vanilla sugar* (can substitute regular sugar)
3⁄4 cup milk
2 teaspoons vanilla
12 tablespoons butter, at room temperature, plus 2 tablespoons for the pans
5 large egg whites, at room temperature
Vanilla Buttercream Frosting tinted a light copper color (recipe to follow)
1 cup crushed Valentine heart candies (I used a zip-top bag and a rolling pin to break)
Directions:
Preheat oven to 350º F. Butter two 8-inch round baking pans. Set aside.
In the bowl of a standing mixer fitted with a paddle attachment, add the flour, baking powder, salt, cinnamon and vanilla sugar and mix just until combined. Add the milk, butter and vanilla and mix until combined (mixture will be very thick). Add the egg whites and mix until batter is light and fluffy (about 3 minutes). Divide batter between the two baking pans and smooth the top. Bake until lightly golden and baked through (about 20-25 minutes). Set aside to cool. When cakes are cool, remove from pans, apply crumb coat of frosting, refrigerate for 30 minutes and apply final coat of frosting. Decorate with the broken heart candy.
Vanilla Buttercream Frosting
yields about 5 cups
Ingredients:
2 cups (4 sticks) butter, room temperature
6 to 8 cups confectioner's sugar, sifted
1/2 teaspoon salt
1 tablespoon vanilla paste (can sub vanilla extract)
4 to 8 tablespoons milk
copper colored food coloring (or any color you like!)
Directions:
In the bowl of a standing mixer fitted with a paddle attachment, beat the butter on medium speed until creamy. Reduce the speed to low and gradually add 6 cups of the confectioner's sugar. Add the salt, vanilla paste and 4 tablespoons of milk. Beat for 2 minutes. If the frosting is too thin, add more of the sugar (1/2 a cup at a time). If the frosting is too thick, add more of the milk (1 tablespoon at a time). Stir in a little food coloring at a time until you get your desired color. Refrigerate the frosting for a few minutes before using.
*Vanilla sugar is sugar that has been with a vanilla bean in a jar for a few weeks imparting a mild vanilla flavor
Libbie's Food Styling Props: Fabric is from a fantastic shop in Montreal, Canada called Effiloché that I visited recently and fell in love with –this was just one of many yards I brought home with me. Variety of dessert plates come from all over the place. If I see one I love, I buy it for a prop or dinner party. Purple flatware from Re-think Design Studio.