Recipe by Libbie Summers and Candace Brower
Photography by Chia Chong
Styling by Libbie Summers
Buttery shortbread with just a hint of rose and a kiss on the cheek of cinnamon white chocolate.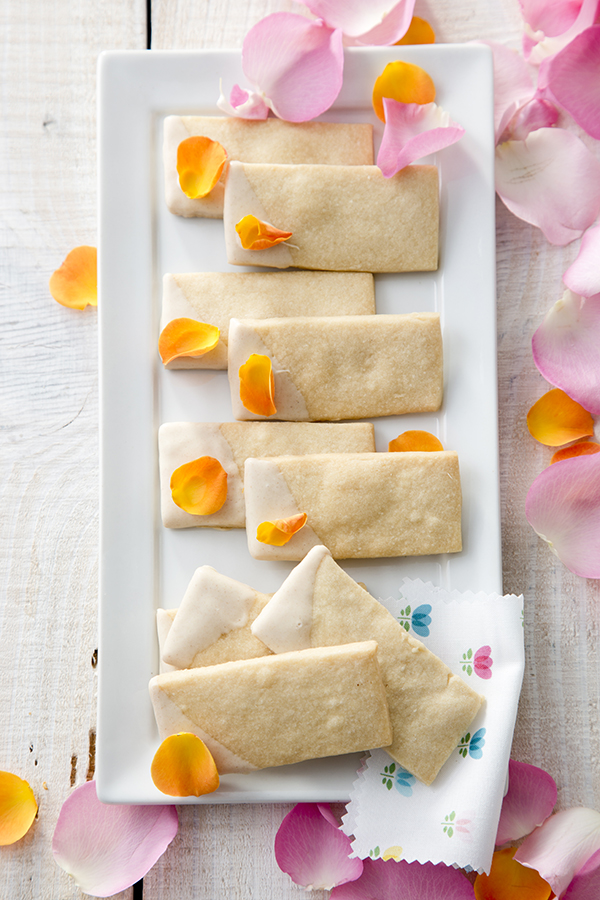 Cinnamon White Chocolate Dipped Rose Shortbread
makes 2 dozen 
Ingredients:
1 cup butter, softened
1/4 cup light brown sugar
1/4 cup vanilla sugar*
1/4 teaspoon rose extract (we used Olive Nation Pure Rose Extract)
2 1/4 -2 1/2 cups all-purpose flour, plus more for dusting
1/8 teaspoon salt
1 1/2 cups white chocolate chips
1 tablespoon vegetable oil
1/2 teaspoon cinnamon
rose petals for garnish (optional) 
Directions:
In the bowl of a standing mixer fitted with a paddle attachment add the butter and sugars. Cream together until light and fluffy (about 5 minutes). Add the extract and mix just until blended.

In a medium bowl, sift together 2 1/4 cups flour and salt and add them to the butter mixture. Mix on low speed just until the dough begins to come together. (If dough is too soft at this juncture add remaining 1/4 cup flour). Turn the dough out onto a lightly floured work surface and form into a disc. Wrap in plastic wrap and refrigerate for 30 minutes. 
Preheat oven to 325 degrees F. Line a baking sheet with parchment paper and set aside.
On a lightly floured work surface, roll or pat the dough into a rectangle loaf that is 3-inches wide and 1 1/2-inches thick. Slice the loaf into 1/4-inch slices and place on the baking sheet. Bake just until the edges begin to brown ever so slightly (about 20 minutes).  Allow shortbread to cool to room temperature.
In a microwave safe bowl, stir together the white chocolate chips and vegetable oil. Microwave on high for 30 seconds. Remove and stir. Heat again for another 30 seconds and stir. Continue until the chocolate is completely melted. Stir in cinnamon. Dip one edge of each shortbread cookie into the cinnamon chocolate mixture and place back on the baking sheet to harden. While the chocolate is still warm on the cookie add a rose petal if you like for garnish. Note: To set the cinnamon chocolate faster, place in the refrigerator for 5 minutes to harden.
*Vanilla Sugar makes the world and all recipes better! To make, take one fresh (preferably organic) vanilla bean and a cut a slit down the side. Scrape out the seeds and place the seeds along with the bean in a sterilized jar. Fill with 2 cups of sugar, screw on lid and give it a good shake. Top off with another cup of sugar and screw the lid on tightly. Set aside in a cool, dry pantry for 2 weeks before using.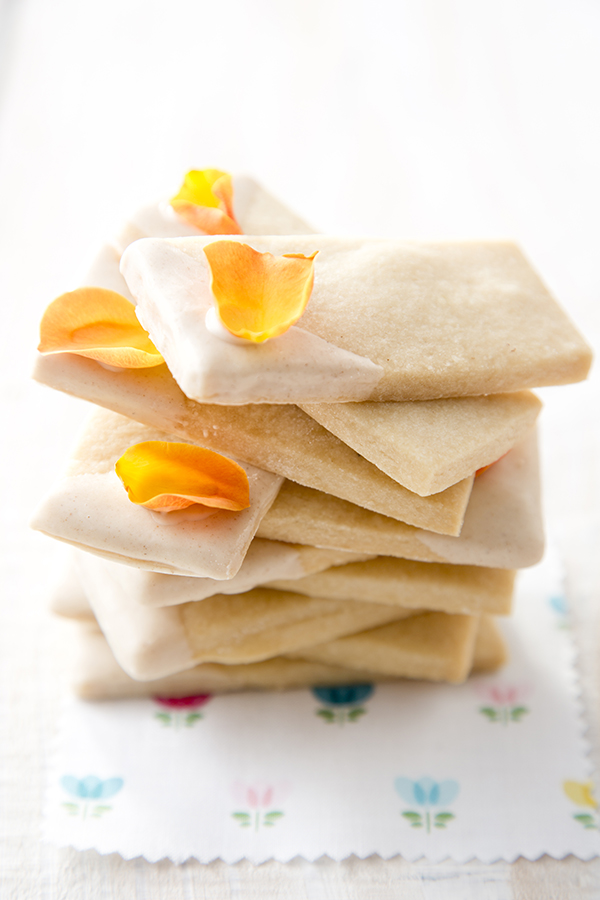 Libbie's Food Styling Props: Shot on a three pieces of old wood from Southern Pine Company that was white-washed. Fabric is from a fantastic shop in Montreal, Canada called Effiloché that I visited recently and fell in love with –this was just one of many yards I brought home with me. White rectangle platter from Tiger Chef.