Recipe by Brenda Anderson
Photography by Chia Chong
Styling by Libbie Summers
Wine Pairing by Grapefriend 
A new hipper hangover salad.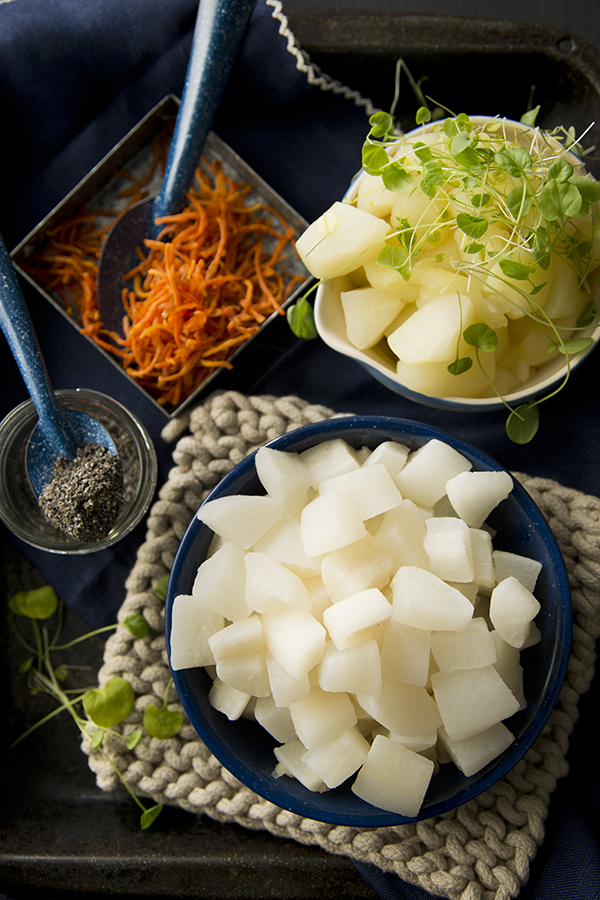 Hangover Salad (aka Warm Daikon, Apple and Fried Carrot Salad)
serves 4
Ingredients:
2 cups daikon, peeled and cut into large bite chunks
2 cups granny smith apples, peeled and cut into large bite chunks
1 (10 ounce) bag of grated carrots
1 cup vegetable oil
Kosher salt and freshly ground black pepper
Crushed and toasted black sesame seeds for garnish (optional)
Watercress for garnish (optional) 
Directions:
In a large sauce pan, add 6 cups water and daikon. Bring to a boil and reduce heat. When daikon is just tender add apples and cook until apples are just soft. Watch closely because apples will cook fast and will become mushy if cooked to long. Drain, salt and pepper to taste and place in a covered bowl. Set aside.
Heat oil in a skillet. When oil is shimmering, add carrots in batches and fry until crispy. Remove with slotted spoon and drain on a paper towel. Serve salad warm, topped with fried carrots and garnished with crushed black sesame seeds and watercress if desired.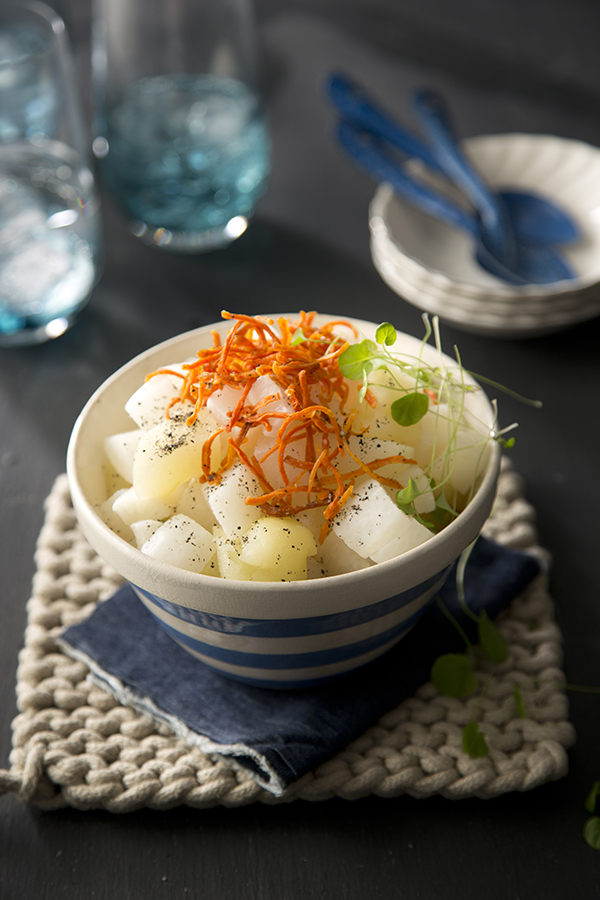 *Cook's Note: Great to have after a weekend of indulgence. Helps reduce swelling and puffiness.
Wine Pairing: This salad has lots of complex flavors, so you want a wine that's layered too. You need some body to hold up to the carrots, sweetness or roundness of the apple, and hint of mineral or pepper for the daikon radish. I'm normally not a huge fan of Italian whites but there are a few that I dig. Arneis is one of them, and would be great with this dish. It's super aromatic and pretty full-bodied but still crisp. Plus, you've got nice apple and pear fruit with a touch of minerality. An awesome one is made by Vietti, which is about $22 per bottle.
Libbie's Food Styling Props: (top photo) Enamelware bowl and spoon from Bass Pro Shops. Woven trivet/potholder from Target. Sitting in an old roasting pan, navy linen napkin from Williams Sonoma. (bottom photo) Sitting on a blackboard painted table. Bowl from Habersham Antiques Market, blue glasses from Pier One Imports. Denim fabric from an old torn up shirt.