Recipe by Brenda Anderson
Photography by Chia Chong
Styling by Libbie Summers
A new…slightly more sophisticated Christmas morning casserole. Santa will never know what he's missing.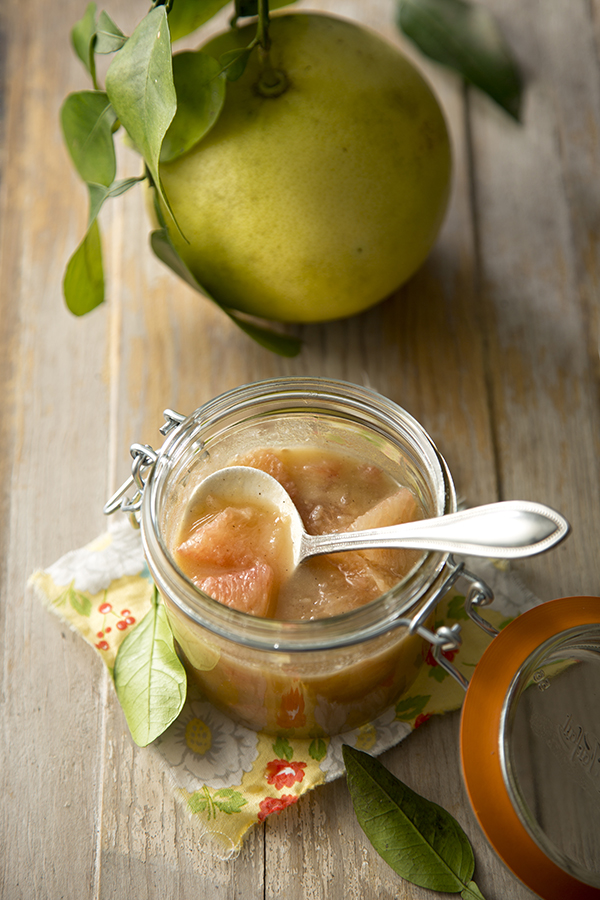 Savory Bread Pudding & Grapefruit Sauce
serves 2-4
For Sauce:
3 grapefruits, 2 juiced and 1 sectioned
½ cup cane sugar
¼ cup butter
1 teaspoon flour
Directions:
In a medium sauce pan combine sugar and grapefruit juice. Whisk and bring to a boil and lower heat; simmer for 15 minutes. In a small pan melt butter and continue to cook until golden brown. Whisk in flour until smooth. Add browned butter to juice and whisk. Simmer 10 minutes. Sauce will be the consistency of thin syrup. Remove from heat and add grapefruit sections. Keep warm.
For Savory Bread Pudding:
4 oz. pancetta, chopped
1 tablespoon butter
5 slices white bread, crust removed and sliced diagonally
1 1/4 cup whole milk
1 large egg
1 teaspoon herbs de Provence
2 fresh sage leaves, chopped plus more for garnish if desired
½ teaspoon salt
½ teaspoon pepper
Directions:
Preheat oven to 350 degrees F. Butter a small oval baking dish (about 10×6-inch) and set aside. 
In a small sauté pan, cook pancetta until slightly crispy. Lay bread pieces in prepared baking dish alternating flat side and point. Spoon pancetta including ½ of the drippings over bread slices. Whisk egg, milk, sage, and seasoning and pour slowly over bread. Press down with finger tips. Let sit for 10 minutes while bread absorbs milk. Cook for 20 minutes. 
To Serve: Scoop out and spoon warm sauce over. Garnish with fresh sage leaves if desired.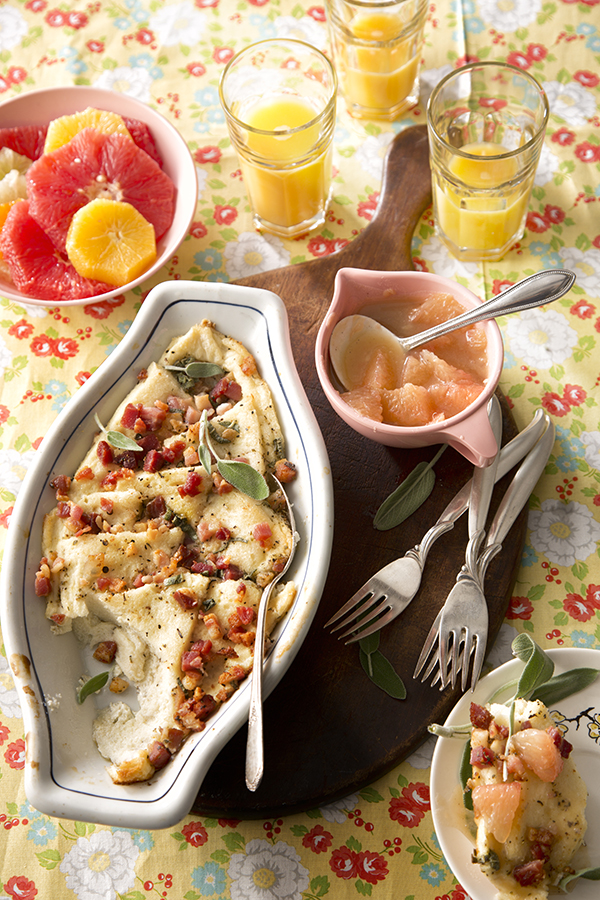 Libbie's Food Styling Props: (top photo) Surface is an old drawer front. Sauce in a Le Parfait canning jar from Kaufmann Mercantile.  Fabric from Fabrika Fine Fabrics. Powder coated spoon from Shop Rethink.  (bottom photo) Fabric surface from Fabrika Fine Fabrics, Casserole dish and silver from Habersham Antiques Market, Mid-Century creamer picked up at a junk shop in Tennessee. Saucer from a resale shop in Brooklyn.