Words and Artwork by katherine sandoz
Poetry by Richard Blanco
The United States Poet Laureate, writer and teacher, Richard Blanco finds fodder for his poetry in home, place and identity, but often includes his experience of Cuban food. His work, like the yuca plant, is equal parts form and function; delicate and strong, complex and majestic…like the places, sounds, tastes he has called home.
From his piece América:
I.
Although Tía Miriam boasted she discovered
at least half a dozen uses for peanut butter—
topping for guava shells in syrup,
butter substitute for Cuban toast,
hair conditioner and relaxer—
Mamá never knew what to make
of the monthly five-pound jars
handed out by the immigration department
until my friend, Jeff, mentioned jelly.
II.
There was always pork though,
for every birthday and wedding,
whole ones on Christmas and New Year's Eve,
even on Thanksgiving day—pork,
fried, broiled, or crispy skin roasted—
as well as cauldrons of black beans,
fried plantain chips, and yuca con mojito.
These items required a special visit
to Antonio's Mercado on the corner of Eighth Street
where men in guayaberas stood in senate
blaming Kennedy for everything—"Ese hijo de puta!"
the bile of Cuban coffee and cigar residue
filling the creases of their wrinkled lips;
clinging to one another's lies of lost wealth,
ashamed and empty as hollow trees.
(
Yuca con mojito 
is
yuca
with garlic sauce.)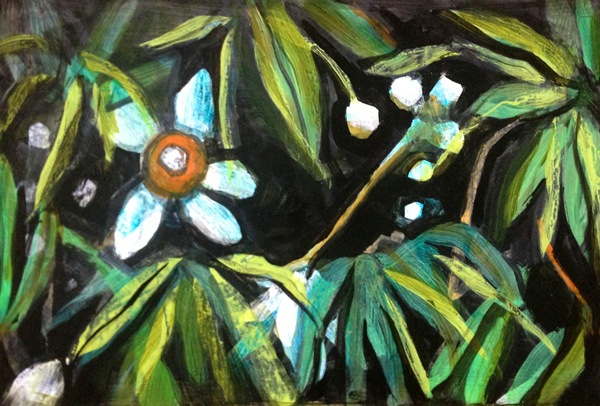 yuca/cassava detail, 23″ x 34″, water-based media on paper, 2013
(available for purchase
here
)