Video by Juwan Platt
Music: "Further" by Outasight

To capture the work of others, you have to get up before them. Videographer Juwan Platt captures some of the team of Salted and Styled as they profile and are inspired by an early-rising keeper of bees.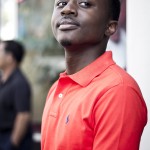 A student of photography and videography, Juwan Platt is a youthful sprite with the soul of a man 4 times his age. A visual storyteller, he enjoys capturing people in their natural element allowing life to be their only stylist. His website showcases life's unmarred photographic flavor better than any five-star restaurant. Juwan is a lover of travel, good food and well-fitting pants.