Words and Recipe by Pati Jinich
Photography courtesy of Penny De Lost Santos
You know those photos of kids with big slices of watermelon in their hands and juice dripping down their chins? Consider this salad a neater version of that image. Essentially summer in a bowl, this salad features an unexpected combination of ingredients. The exotic companions of mint, feta, and tart tomatillos take watermelon to a new dimension. Green tomatoes can stand in for the tomatillos in a pinch.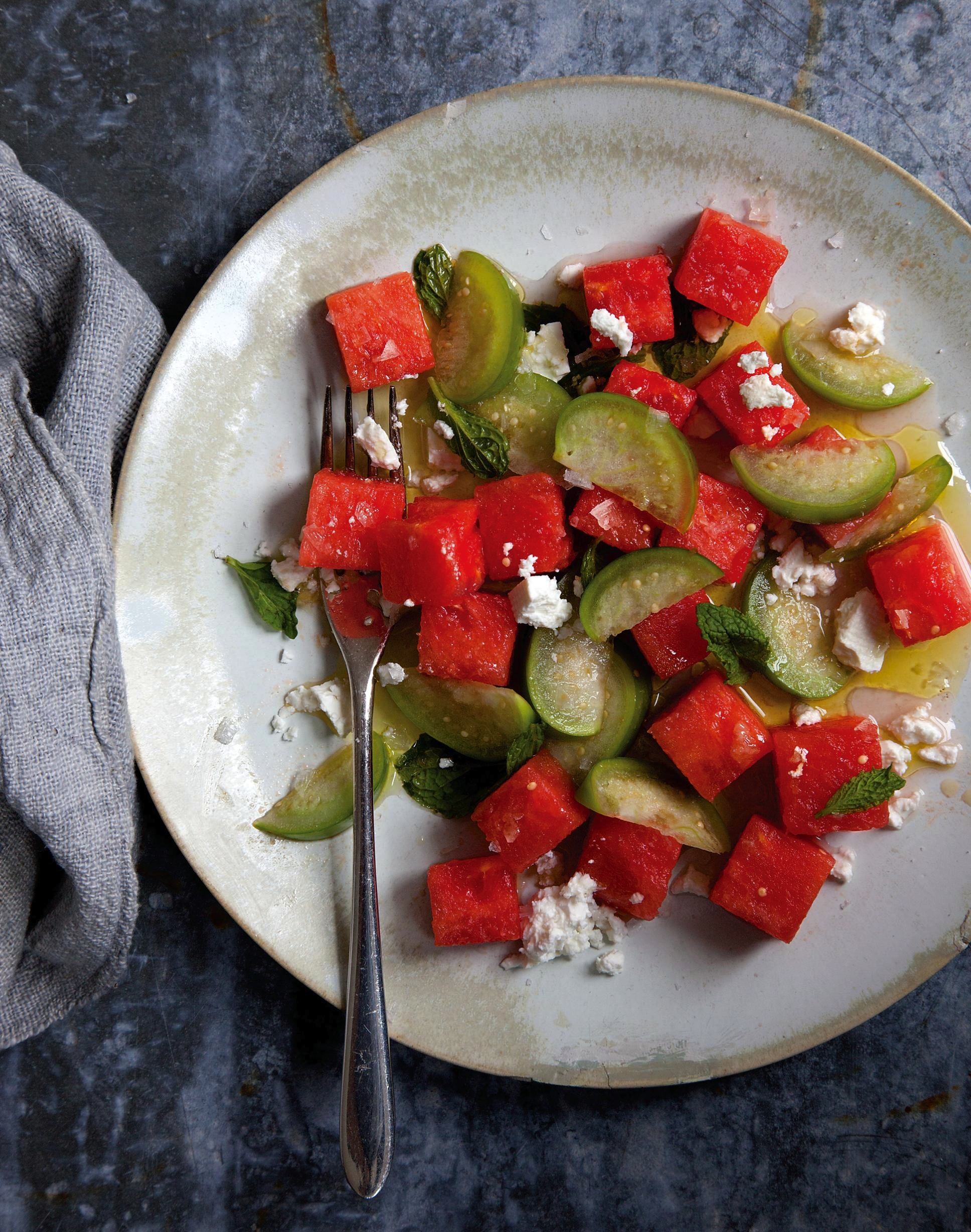 Watermelon and Tomatillo Salad with Feta Cheese
serves 6
Ingredients:
2 teaspoons chopped fresh mint, plus more for garnish
1 tablespoon seeded (if desired) and finely chopped jalapeño chile, or to taste
3 tablespoons freshly squeezed lime juice
1½ teaspoons distilled white vinegar
1 teaspoon kosher or coarse sea salt, or to taste
3 tablespoons olive oil
3 tablespoons vegetable oil
6 cups seeded and cubed ripe watermelon
About 12 ounces tomatillos, husks removed, rinsed, quartered, and thinly sliced crosswise (3 cups)
About 4 ounces feta cheese or queso fresco, crumbled or cut into small dice (¾ cup), or to taste
Directions:
1. In a small bowl, combine the mint, jalapeño, lime juice, vinegar, and salt. Slowly add the oils in a thin, steady stream, mixing with a whisk or a fork until emulsified. Let sit for at least 5 minutes before using, so the mint and jalapeño flavors can marry and infuse the vinaigrette. 
2. Place the watermelon and tomatillos in a large salad bowl. Toss gently with enough vinaigrette to lightly coat. Sprinkle the cheese on top, garnish with mint, and serve.
** Vinaigrette can be made up to 3 days in advance, covered and refrigerated (mix well before using); salad can be assembled without the cheese and mint garnish up to 12 hours in advance, covered and refrigerated.  
Excerpted from PATI'S MEXICAN TABLE, © 2013 by Pati Jinich. Reproduced by permission of Houghton Mifflin Harcourt. All rights reserved.
For more about Pati, visit her website, Pati's Mexican Table.
Follow Pati on Twitter, Facebook, Pinterest and Instagram.
Find out how to find Pati's PBS show, Pati's Mexican Table, in your area. HERE