Words and Fashion Styling and Fashion Design by Brooke Atwood
Photography and Art Direction by Chia Chong
Photo Styling and Art Direction by Libbie Summers
Floral Design by Ashley Bailey
Original Artwork by Katherine Sandoz
An outside beautifully styled luncheon where a gal can wear leather, eat beautiful flowers and drink flower-iced lillet is my kind of luncheon (especially the leather part). Cassie's black and white lambskin leather tee paired with the white tulle skirt makes my mouth water… without even tasting the flowery menu. The oversized jewels and luscious flower crown aren't missing their cue to scream "statement" either!  I'm not sure the legality of wearing leather to afternoon luncheons, but clearly… these gals are pulling it off.  bien fait!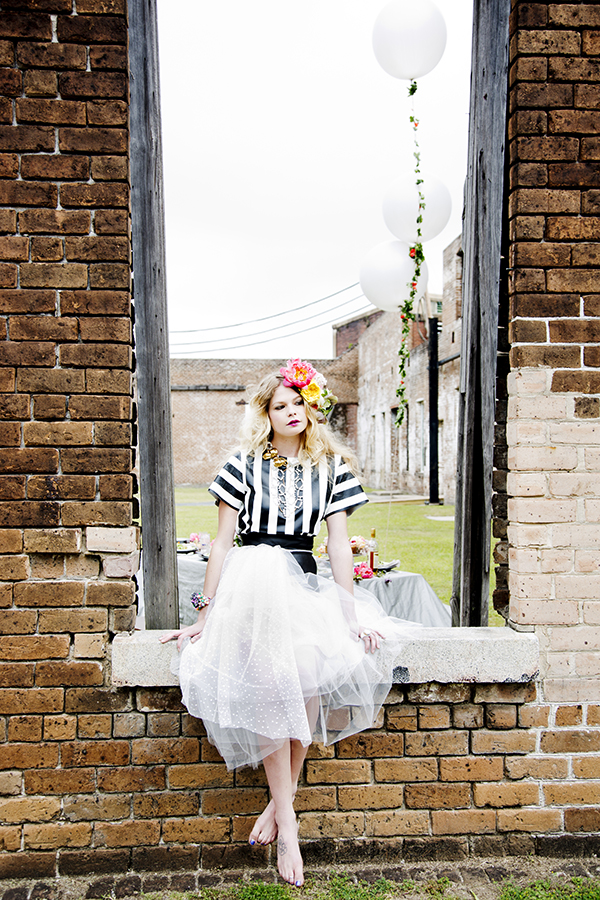 Credits:
Model: Cassandra White courtesy of Rise Model Management.
Hair: Lindsay Nix
Make-Up: Jules de Jesus Fritz for Dollface by Jules
Location: Savannah Roundhouse Railroad Museum, Savannah, GA
On Cassandra: Black & White Striped Lambskin Tee by Brooke Atwood, $460/ White Tulle Skirt w/Leather Fanny Pack Waistband by Brooke Atwood/ Long Rhinestone  Spaced 'Sherlock Place' Necklace by Bazz de Grant, $494/ Oversized vintage gemstones and brass bow 'Roosevelt Place' necklace by Bazz de Grant, $240/ Agate and Glass Ring by Sarah Lewis $460/ Hand Beaded 'polymer' Bracelet by Sam Norgard, all from ShopScad/ Flower Headpiece Made by Ashley Bailey for The Byrd Collective.
Watch Cassandra on her way to this edible flower inspired luncheon, HERE.
Meet Brooke!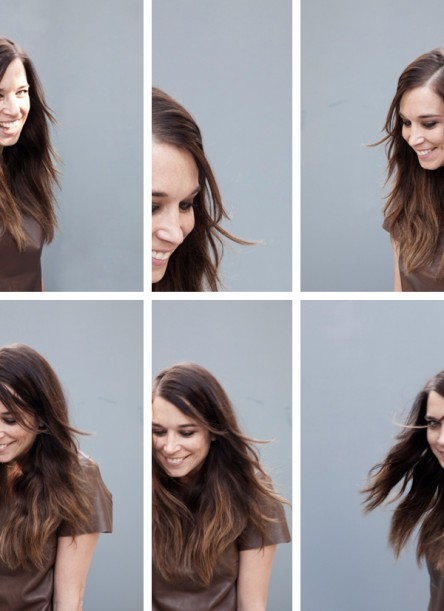 Brooke Atwood is a Master of Arts in fashion design graduate from Savannah College of Art and Design. Born and raised in Mississippi, she attended the University of MS where she earned a Bachelor of Business Administration degree. It was in Oxford, MS., home to a thriving and diverse music scene, where her love for fashion and music inspired her to open her first boutique. After several years in the retail business and a growing desire to become a designer, she decided to sell her store and relocate herself and her daughter to Savannah, GA where she recently finished her final thesis collection at SCAD. Atwood's designs have a sense of femininity with a rocker-chic vibe. She currently divides her time as a freelance fashion stylist, designer and the joys of being a "not your average" soccer mom. When not busy with a fashion project, find Brooke seeing as much live music as possible, striving to be student of the month at Bikram Yoga and giving styling tips to the world through her style blog, My Style Bass.
Follow Brooke on Twitter and Instagram.