By Amy Zurcher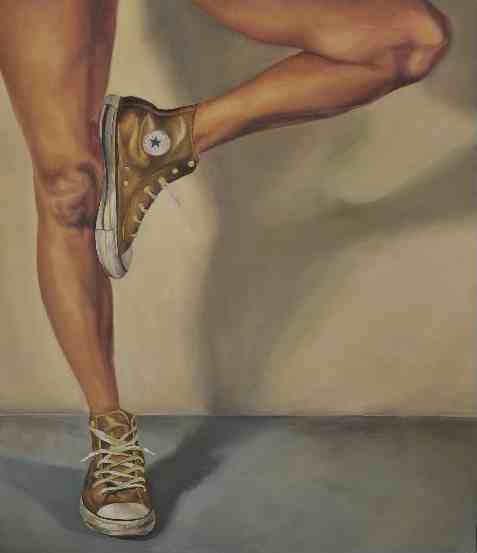 This week our muse is chocolate. So I chose this painting of someone wearing a pair of classic Chuck Taylor sneakers. "Hmmm?" You say. What do these two seemingly unrelated things have in common? Is it just the color? Nope. It's more. In my estimation I see a commonality that transcends the obvious color. Yes, like the shoes, chocolate does tend to be brown. A deep brown that swirls in my mind like melted dark Lindt truffles or Dove chocolate square Promises—the darker the better. I love, love, love fine dark chocolate—the scent, the taste, the smooth, inviting curves of cocoa But, I digress! Maybe you see the connection too (in which case, forgive me for saying what is obvious to us!): both offer up a certain ooh-so-soothing comfort and escape (and isn't that what we are all looking for in these days of vast information and overstimulation?). I have had a pair of Chuck Taylors present in every one of my closets since the 1980s when I thought it was standard issue to have at least one pair of hot pink or lavender high tops. Progressively, as I have grown older and gotten bigger closets, the colors have grown more muted. As a matter of fact, since selecting this painting to feature, I realize my affection runs deeper than I previously realized. Exhibit A: the following picture of three brown pair of sneakers that belong to my husband, little boy Billy and baby Charlie. Wow! Amazing the sort of things a truly spectacular work of art can make you notice about the world around you!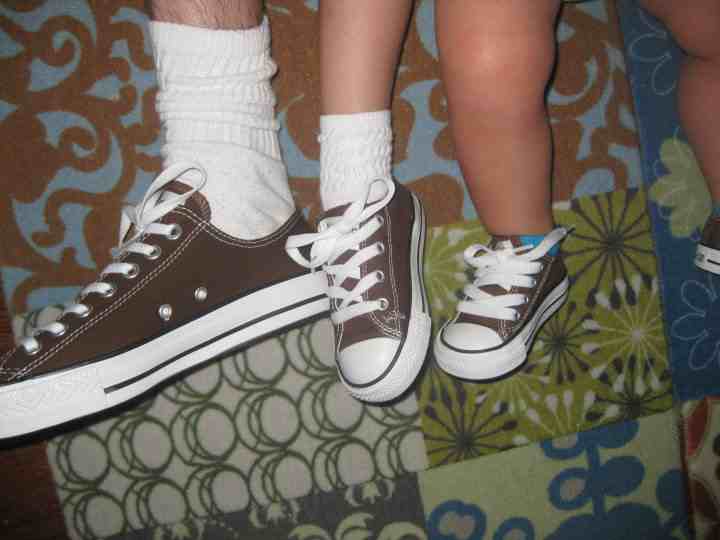 Whether you have experienced this Chuck Taylor phenomenon in your own closet life or not, we all know the comfort of slipping into a pair of super classic kicks so well-worn in their perfection that they feel like butter. During the work week they sit patiently in the back of the closet, promising silently that when your day off finally arrives, they will be waiting to take your fee on adventures, leaving behind those stuff heeled boots and peep toe heels. It's the same with chocolate really, don't you think? You carry this bit—a Dove Promise or dark chocolate Hershey's Kiss (any morsel will do) concealed in your pocket just waiting for its stolen moment of opportunity to delight you—and when it comes, oh, how your eyes give in to the delight, closing in response to its goodness. Smooth, decadent  chocolate—really the ultimate tool in a self-soothe moment. Chocolate, I am convinced, is the cure for all common human ailments: frayed nerves, broken heart. Heartwarming and healing as a broken-in pair of sneakers greeting you at the end of the day. Aside from the pleasant taste and creamy texture chocolate, like the sneakers, brings us back to a safe place that is easy and comfortable, straightforward and simply.
Lex Hade's painting "Knees" featured above gives this same quiet assurance through its gentle application, smooth subdued color palette and realistic style. In her painting we only see the part of the figure she wants us to focus on most. Lex has described herself as, "A realist painter. An American realist painter. Nothing more." However, I must go beyond her humility to say she casts quite a spell on the viewer by taking identifiable common objects that are somewhat iconic and personal (like these brown sneakers) and making them the star of the painting not just merely one of the details. Her painting style is easily identified as realistic but I would also boldly assert there is some kind of vibration going on here. In looking at this painting, I cannot help but want to follow those brown shoes anywhere. I want to look further up, beyond the toned legs to confirm my suspicions that somewhere above, the owner of these fine, well-worn shoes has his eyes closed in an ecstatic, quiet homage to a delicious piece of chocolate.
To purchase this or other works by Lex Hade visit shopSCAD