By Brooke Atwood      Photography by Chia Chong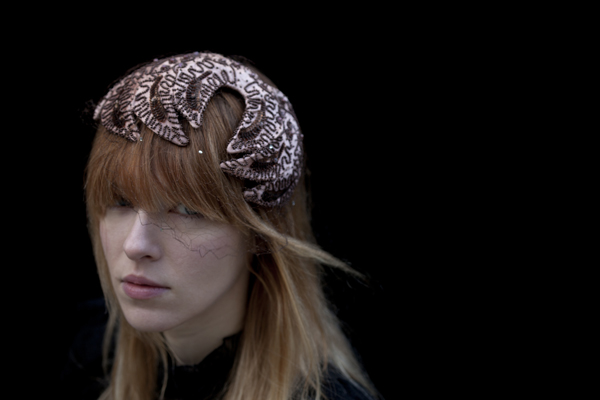 Chickens, hens, birds, eggs, coops, nests… wha?? I'll be honest here, I have no clue the process of how eggs are hatched, laid or whatever? Is a hen a male? or female? And isn't there a rooster somewhere in the process? Yea, I'm going to stick with fashion and lay off logistics this week. My fashion obsession this week is hats.. loving this vintage birdcage veiled hat, especially on my friend Blake here that can easily pull just about anything off. She could totally wear this with jeans on a night out on the town and look super confident and cool, as she usually does.
So, I guess we can thank the Duchess of Cambridge for bringing hats back..(yea, I was humming to the tune of JT's song, I'm Bringing Sexy Back). Katherine has lead us down the millinery road of crowning our heads in interesting lil' head-toppers on even a "not so special" day/event. Yes, that means you don't have to be walking down an isle in all white to say "I Do" to get away with one. Of course, I have to admit that I was one of the drooling fairy tale dreamer girls watching the Royal Wedding with envious eyes on all the cool headwear that filled Westminster Abbey. This years Spring/Summer 2012 runways were filled with cute, funky, bright, and bold hats that weren't there for the usual style to shock purposes, but for actuality. I especially loved Jil Sander's take with the birdcage veil adorned to black knit beanies, traditional meets grunge… yes, my kind of style.  Fortunately, vintage little finds like this one are pretty easy to find at your local vintage and antique stores, but hurry it up before all the good ones are snatched up!