By Brooke Atwood  ·  Photography by Chia Chong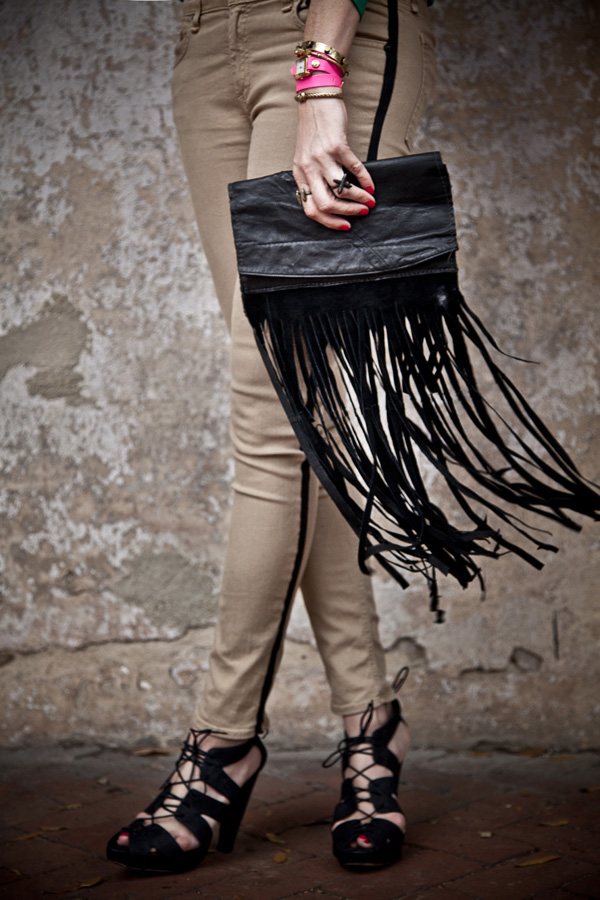 With pasta being my muse this week, I cant help to be reminded of my very first fashion creation to ever make. I know many of you will recall the classic rigatoni pasta necklaces we all made for our moms in Kindergarden? I can remember my delicately stringing with yarn and constructing each perfectly chosen pasta piece, and so excited to present that delicate little work of art to my Mom! Well, some un-disclaimed years later I am still designing, not so much with pasta, but clearly inspired sometimes by things such as this. As designers we are expected to think outside the box, right? Right out of the fettuccinni box with this leather clutch I designed (with its fettuccinni similarity fringed detail). Designed by me and then custom made by local leather and handbag favorite, Satchel. Designed to hold as a clutch, and also made with a removable leather belt that can be worn as a… Well, you know, a fanny pack. A very cool boho chic fanny pack I might add. Clutches are everywhere this season, they are definitely the new "it" accessory. I am currently stocking my closet with an array of different styles, sizes and colors. They really have this simple little way of completing a look. Of course, I love this one because I designed it, AND its pretty cool that it will function as a day or night bag and all the confidence you will exude while carrying it!
Custom leather clutch, Satchel (912) 233-1008.