By Amy Zurcher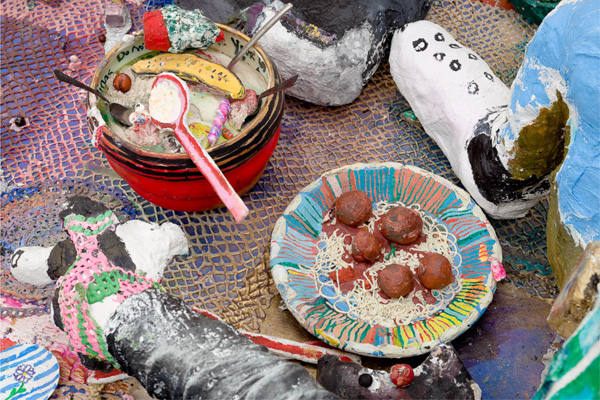 PA-SKET-EEE!! or more commonly and calmly said as "spaghetti" is the inspiration this week. I was told pasta was the muse but I heard PA-SKET-EEE!!, what I believe to be my first multi syllable word as a child.  No matter how hard I tried to work out the proper pronunciation, I always reverted back to letting the  "PA" lead the way to the favorite meal of my youth. I once told my mother I loved pasketti so much that when I grew up I was gonna marry me an Italian man who would make big plates of savory, tasty noodles smothered in rich tomato sauce. I also wanted him to be a master pianist who, I'm guessing, I thought would serenade and play for me as I twined long noodles with my fork into not-so-neat rolls destined for my mouth!
Ach! Ok, enough with the anecdotes, Amy!
When I heard "pasta," my second immediate thought was of my dear friend and SCAD artist Summer Wheat and this odd bit of sculpture immortalizing the iconic spaghetti and meatballs of which I speak. I first spied this tiny bit of her work in its infant stages—I did not realize it was to become part of a much larger sculpture installation (as you can see above and again in it's entirety at the bottom of this article—if you have the stamina to make it all the way down there)! Not only does Summer have this most literal interpretation covered for my pasta post but I will further point you to her other work that shows a noodle-y type consistency throughout. When I first laid eyes on this plate, I was visiting Summer here in Savannah who had made a temporary studio switch-a-roo with the talented Lorie Jean Corbus. Lorie was camped out in "Savooklyn" (NYC) as we like to call it since so many fab SCAD grads have relocated there. Summer and I were holed up in her country studio talking late into the night as a thunderous storm raged outside, occasionally knocking out the lights, much to our delight. Sitting there listening to her muse about her upcoming work was magical! for me. (Can we underline, boldface and make an exclamation point after the word magical here, editor?) Yes, that appears to cover it. I contemplated this plate of spaghetti, sipped some wine and escaped into her world for a while. Summer is as enthralling and eccentric personally as she comes across in her work. It was as if I'd stepped into a film and found myself unable to break free of the entrancing main character. Deliciously lost and immersed in her enigma. So, to illustrate or punctuate the moment I am recalling I share this fuzzy pic I took on my crackberry of her that night. I love it so much, I really think she should write a novel one day and use it as the cover!  This is not so far-fetched as Summer is an old soul and supreme storyteller.  Truly, I can almost hear a drum beating in the background when she leans in to spin a tale to me. I title my blurry pic "Summer in Repose."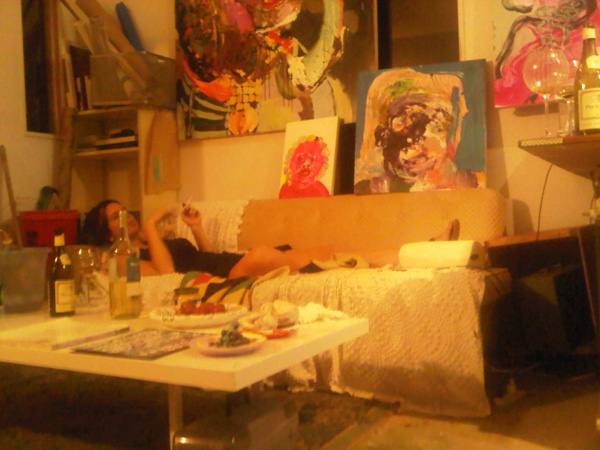 To say Summer's work is textural doesn't even begin to address what is going on. Just look at the paintings in this candid scene—all oozing with color and clumped up with layers upon layers of paint.  Many times the work appears to be crocheted. She cites one of her major breakthroughs as when she "learned to sew with paint." She achieves this interesting effect with her refusal to use any traditional means of applying the paint. I am talking cake extruders and mops amongst other unconventional painter tools. I am not sure it is a conscious refusal- you see- this is a live one, a true rebel. You can't help but admire her spirit and fierce independence.
In the work above "Problemed" you can certainly see this PA-SKET-EEE!! reference, can you not? Viewing her artwork takes me back to her voice describing the process of creating a new body of work—how it all gets worked out at a frantic pace only to be put away out of sight so that a new group can be started. Once this new group is finished she tells me of how she circles back and takes each piece aside spending as little or as long with them individually as it takes to bring the piece to fruition. This could be hours; this could be days. I find all this process to be fascinating and can identify with it—isn't it that old temptress "instant gratification" that plagues me, too? I love that Summer channels this into a positive honoring the process that most naturally fits. It seems she can satisfy those quick pangs and creative longings bursting forth in a frenzied manner, and then—when all is well, calm and she has climaxed this artgasmic output—she can center back for a finishing dance with each piece in a deeper contemplation that reveals more depth and thoughtfulness. I just adore Summer, can you tell?!  So, before I go I must also share a favorite sculpture of mine with you, "Prada and Payless Pretzel." Enjoy!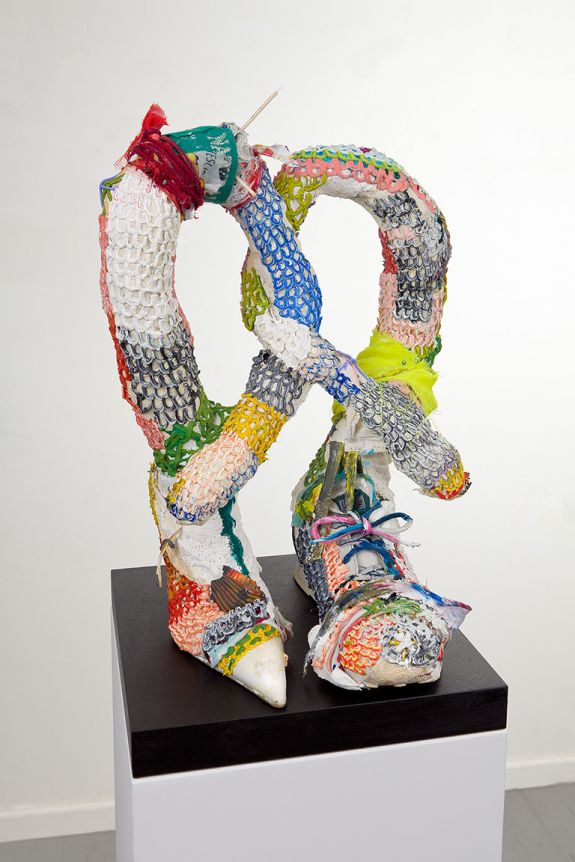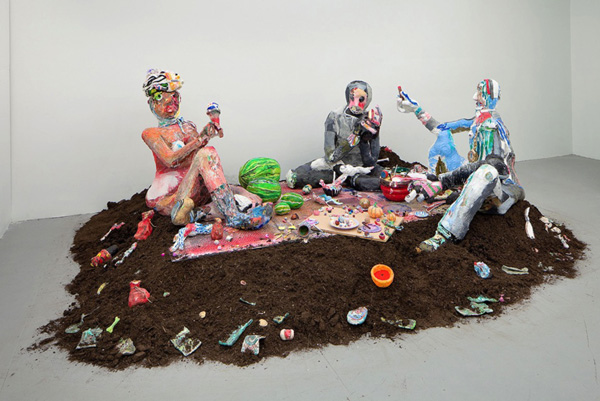 "Luncheon on the Hill", 2012
plaster, plywood, magic marker, oil paint and dirt