Video by Juwan Platt
Videographer Juwan Platt takes a peek behind the curtain with the team of Salted and Styled…and a bunch of chickens.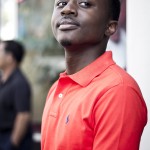 A student of photography and videography, Juwan Platt is a youthful sprite with the soul of a man 4 times his age. A visual storyteller, he enjoys capturing people in their natural element allowing life to be their only stylist. His website, juwan.tv, showcases life's unmarred photographic flavor better than any five-star restaurant. Juwan is a lover of travel, good food and well-fitting pants.