Photograph by  Marcus Kenney
Styled by Rebecca Gardner
Behind the Scenes Photography by Anna Heritage
Shot on location in Savannah, GA at The Olde Pink House 
With this outrageously beautiful image, we've been called (among other things) The Real Housewives of Savannah. When asked to have a group image taken for a project we were working on, we wanted to project an artful and fashionable image with a bit of  tongue and cheek "don't take yourselves to seriously" whimsy. Photographer Marcus Kenney was kind enough to say yes when Chia asked him to shoot the image and Rebecca Gardner was the genius behind the concept and styling. We just stood in place and tried not to smile –mission accomplished!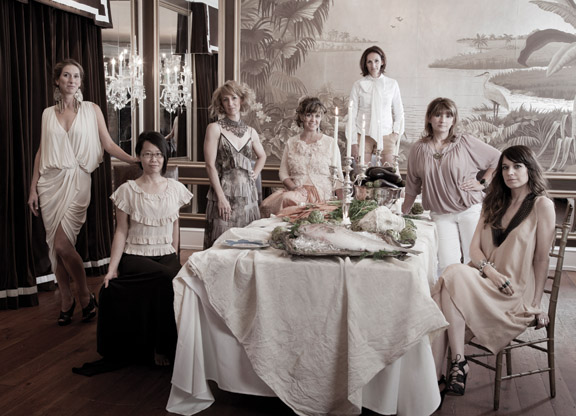 The Salted and Styled Team, Left to right: Andrea Goto (profile writer), Chia Chong (Co-Creator, Photographer, Art Director), Katherine Sandoz (Artist, Writer, Stylist), Amy Zurcher (Art Curator, Stylist), Libbie Summers (Co-Creator, Art Director, Writer/Recipe Developer, Stylist), Brenda Anderson (Podcast Host, Recipe Developer), Brooke Atwood (Fashion Stylist)
On Andrea: Earrings by Dayna Marie available at shopSCAD
On Chia: Bracelets from shopSCAD, Top by Tibi and silk skirt by Alexis available at James Gunn (912) 790-7500
On Amy: Earrings by BAZZdeGRANT available at shopSCAD
On Libbie: Cotton Blouse by Billy Reid available at Billy Reid. Leather Shorts by Vince available at James Gunn (912) 790-7500
On Brooke: Chain Metal Necklace by Luv AJ available at James Gunn (912) 790-7500
Hair and Makeup: Salon Aqua (Kimberly Nowell) and Colorboxx Salon (Kristen Hale, Nikki Edwards, Liz Browlee and Marie Bramlett)
Big Fishy Kisses and Thank You to the photo assistants who helped make this image happen: Lex Hade, Anna Heritage and Austin Wright.