Words by Andrea Goto
Photography by Chia Chong
Styling by Brooke Atwood, Katherine Sandoz and Libbie Summers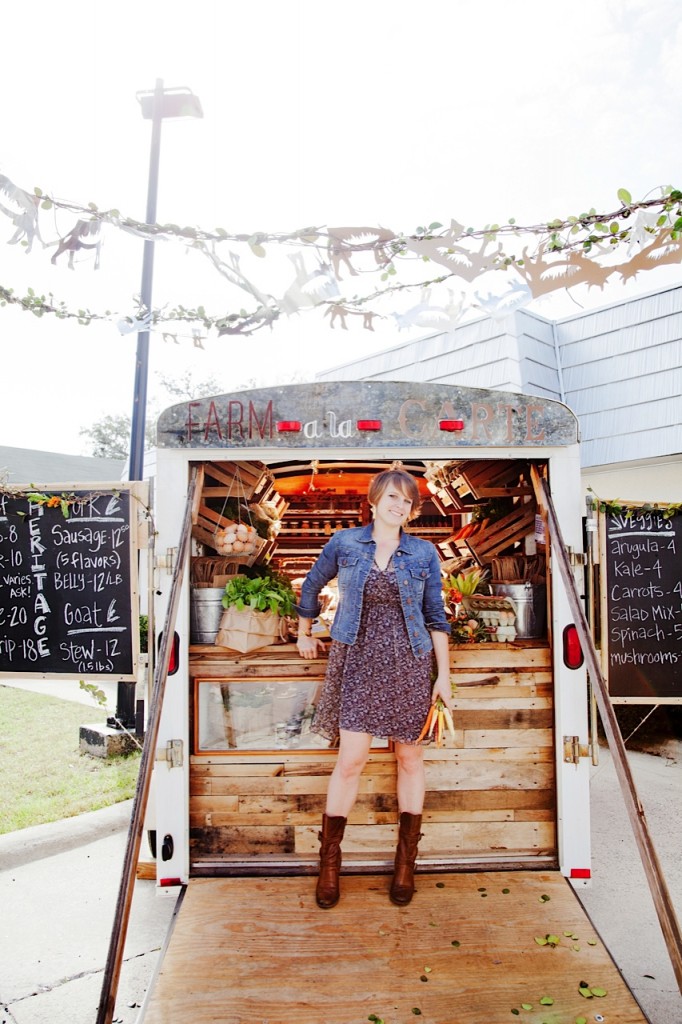 Arianne McGinnis has casually cropped hair and long bangs that she brushes off her forehead as if looking for her thoughts across the parking lot of the trendy burger joint we're perched next to.  Her speech is clipped, but interspersed with laughter.  Her body moves awkwardly in an airy dress, as if unaccustomed to the freedom from what I imagine were perennial denim cut-offs rubbed with dirt from the fields in which she once worked.  She reminds me of Jodie Foster.  Not the shaggy haired, brace-laced teeth and growly voice of Freaky Friday fame, but the later more enigmatic Jodie—somewhere between The Accused and Little Man Tate—who is an alluring blend of feminine and masculine qualities, a series of soft contradictions.
One minute Arianne soberly discusses sustainable farming practices, using terms such as "collaborative venture," "paradigm shift," and "market access," and the next she's giggling as she describes herself as a "hot young former farmer" who "likes to give people double-takes."  All of this makes me a little uncomfortable, probably because I've fallen a bit too far from my feminist roots.  I've become accustomed to attractive women patiently waiting for the world to (hopefully) discover their intelligence, rather than announcing it.  But back in my college days when Who Stole Feminism lay bookmarked on my nightstand, I'd jump at any chance to wax poetic about the patriarchy and misogynists.  The Arianne McGinnis's of the world—women who weren't afraid to leave what was familiar and embark on an Odyssey-like search to find their place, however unconventional—were my role models.
Midway through college, Arianne suddenly grew restless with the ho-hum trajectory of her life and walked away from everything she knew: school, her family's business (an Italian restaurant in New Orleans), and her country.  She did a brief stint as a Greenpeace activist and eventually landed on a Permaculture farm in Brazil, where she learned the foundation of sustainable farming and, consequently, laid the framework for her future.  After leaving Brazil, she returned to the States where she worked on various farms all over the country, the last of which was a place in Sylvania, Georgia—the kind of small, rural town you pass through on your way to "someplace else"—and there "everything just clicked," she says.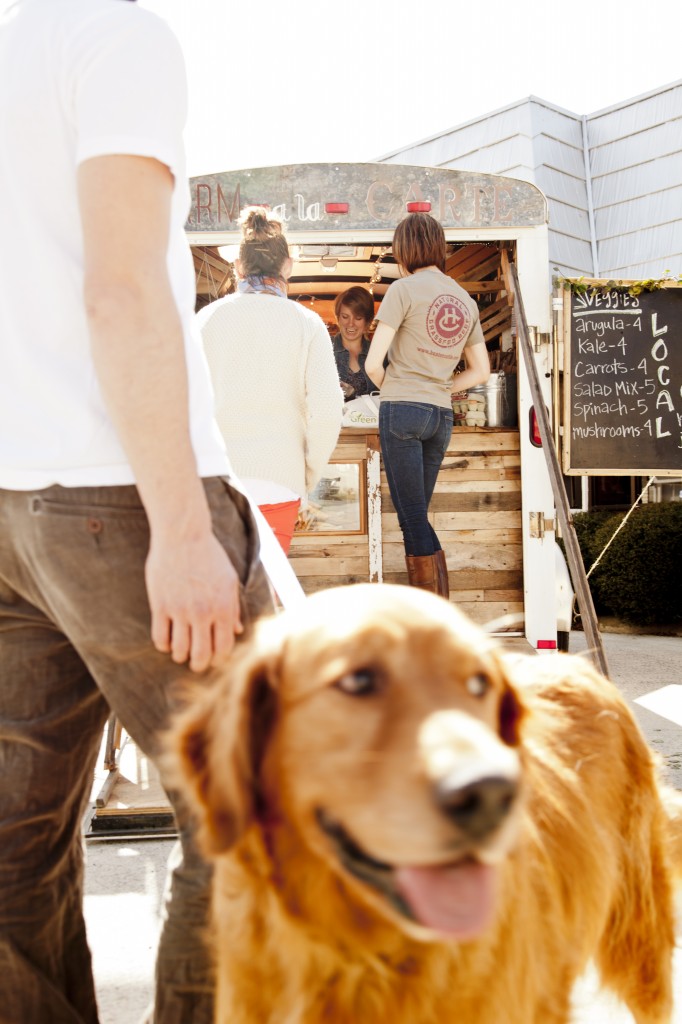 Today, she's the front person for Farm a la Carte, Savannah's first mobile grocery, peddling fresh-from-the-farm organic produce, dairy and meats from the back end of a charming, ramshackle trailer fashioned together by wood sourced from a dumpster.  I am here to witness its launch parked alongside the road in Savannah's Victorian District.
It's an old way of living that seems to suit this determined 26 year old.  "I've done everything from seed to plate, so I get it," she deadpans.  Because of her experience, Arianne can educate her customers about the goods she sells, unlike the checkers at the big-box stores who, when asked where their meat is sourced from, reply "aisle 10."  However, the slow trickle of people who curiously poke about the cart suggests that this movement will take some time, and some getting used to—a challenge that Arianne easily dismisses.  "People want this," she assures me, "There's a demand and we can give them one-stop shopping.  It's collaboration and community."  But the way her eyes dart nervously at every passing car belies an insecurity that I wasn't expecting.  Under all that tenacity is a sweetness that's endearing, if not a little hard to assimilate under a determined dirt-tough shell.
On Arianne:
Denim jacket and dress from Custard Boutique
Earrings and bracelet by BAZZdeGRANT from shopSCAD
The well worn boots? Arianne's own.