Recipe by Libbie Summers as inspired by Rebecca Gardner
Photography by Chia Chong
Styled by Libbie Summers
Tasty food, _________, _________ and _________.
We asked Savannah/NY based event planner, Rebecca Gardner of Rebecca Gardner Houses and Parties, to fill in the blanks for her "not so secret" secrets to a successful easy-breezy party. Without missing a beat, she responded with, "Approachability, affordability and creativity." Rebecca's mission is to make entertaining approachable for everyone of all ages -no matter the time commitments, budget or level of cooking skills. She says anyone can do it and we believe her! At a recent Salted and Styled dinner she hosted nothing was more apparent and here's what we learned.
Make your guest list a wild mix of ages, professions and tastes. This offers fresh conversation. Share your friends!
Make your dinner ahead and serve it cold. (a great tip especially for Summer parties)
Be creative with your menu. (Rebecca served a Cool Beef Tenderloin, Smoked Salt Roasted Purple Potatoes, Asparagus and a funky Salmon Mousseline that were all right off the set of Mad Men. Delicious and oh so easy to prepare. The perfect ending was a silver tray piled high with Mayfield Ice Cream Sandwiches! After all, who doesn't love and ice cream sandwich? (we'll share the Salmon Mousseline recipe with you next Thursday).
Serve inexpensive but excellent wines in the "party wine" category. (Rebecca thinks Domaine St. Michelle is a great and cheap champagne that rivals most expensive brands.)
You don't have to hire an expensive florist. (Rebecca never does. She often uses inexpensive live plants that she can repurpose later. For our party, she dotted the bar and table with mini-cactus she picked up at the local Home Depot for $2.99 each.)
Use good linen and iron it perfectly. (Rebecca loves antique linens she finds at junk stores with monograms from unknown people…it adds to the fun.)
Add in a few pops of polished silver. (Rebecca believes you should mix high with low when decorating a dinner table or an event. She thinks all "high" looks boring and all "low" looks cheap.)
Add touches of irreverence and an in-between course surprise. (For our party, Rebecca placed a beautiful note card and a scratch-off lotto ticket under each guest's salad plate…Genius!)
Rebecca reminded us that entertaining is about creating and sharing an occasion. It's not about impressing –it's about leaving your guest with something to talk about.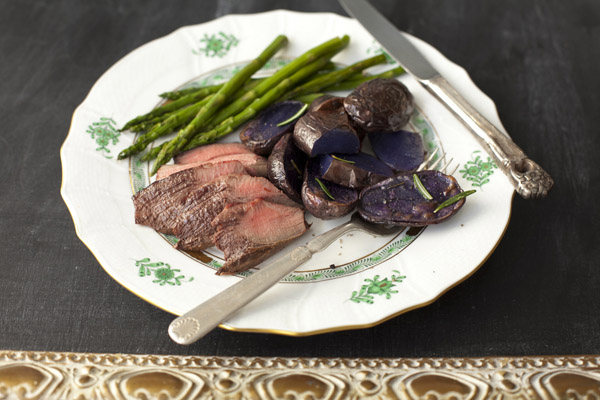 Cool Beef Tenderloin and Smoked Salt Roasted Purple Potatoes
Ingredients:
1 (4 to 5 pound) trimmed whole beef tenderloin
2 tablespoons bacon fat
Kosher salt and freshly ground black pepper
5 pounds small purple potatoes, cut in half
2 tablespoons olive oil
1 teaspoon smoked salt (we used Alderwood Smoked Salt from the Savory Spice Shop)
1 tablespoon chopped fresh rosemary
Directions:
Preheat oven to 425º F.
Rub the outside of tenderloin with a thin layer of the bacon fat and salt and pepper the entire surface. Place on a baking sheet and allow to set at room temperature for 1 hour. Roast tenderloin until an instant-read thermometer inserted into thickest part of meat registers 125°F for medium-rare (135°F to 140°F in thinnest part), about 30 minutes. Remove roast from oven and let rest at room temperature until cooled.
While tenderloin is cooling, line a separate baking sheet with parchment paper. Pour the potatoes onto baking sheet. Pour oil over. Sprinkle on rosemary, smoked salt, kosher salt and freshly ground black pepper. Using your hands, toss to coat. Roast just until the edges are slightly golden brown (approximately 15-20 minutes). Remove from the oven and allow to cool at room temperature (approximately 20 minutes). Serve alongside cooled and sliced beef tenderloin.
Rebecca's Note: "I prefer to serve my tenderloin and potatoes cool in the Summer months. After each has cooled at room temperature for 15 minutes, I wrap them, and place in the refrigerator until just before my party guests arrive. Both can be made the day before the party!"
Serves: 8-10
Prep Time: 30 minutes
Cook Time: 50 minutes
Inactive Time: 2 hours
Difficulty: Easy-breezy
Libbie's Food Styling Props: Base is a 3'X4′ framed chalkboard that I made years ago. I use it to write messages to my guests as they enter my home for parties. It makes a perfect and simple base to this dish. The beautiful plate is Rebecca's own Green Bouquet by Herend.  The vintage silver flatware is from Habersham Antiques Market. (Tip…no need to match your vintage silver, it all looks great together! I also like to let it go just shy of needing a polish.)
To learn more about Rebecca Gardner visit her website.