Produced by Brenda Anderson  ·  Photography by Chia Chong
Hosts Brenda Anderson and Libbie Summers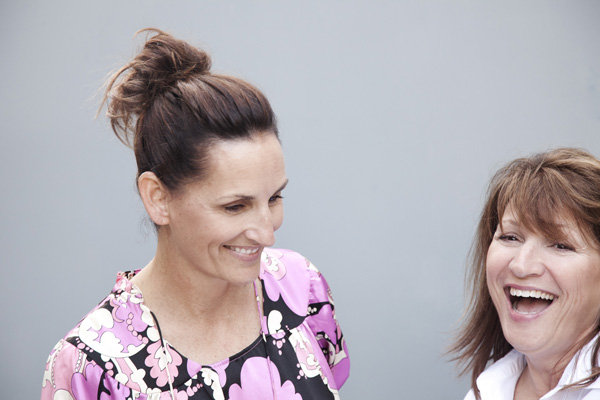 This week Libbie and Brenda tell Easter stories of eggs in the snow and tar on a log…  What they love to cook for Easter dinner, like a beautiful leg of lamb, pork crown roast and of course baked ham. Sound interesting? Well settle in and listen as Libbie and Brenda talk Easter memories and new recipes!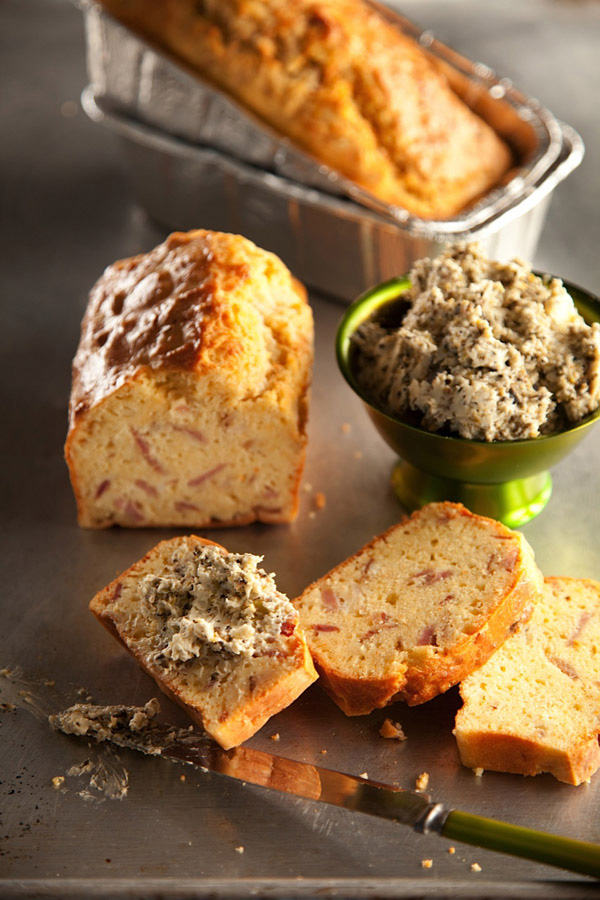 Recipe courtesy of Libbie Summers from, The Whole Hog Cookbook (Rizzoli).
Photograph courtesy of Chia Chong
Quick Ham Bread
(two color olive butter)
Ingredients:
1 2/3 cup all-purpose flour
1/2 teaspoon salt
3 teaspoons baking powder
1/4 teaspoon cayenne pepper
4 Large eggs
1/2 cup milk
6 tablespoons olive oil
1 cup finely chopped or grated fully cooked ham
3/4 cup grated Gruyere cheese
Two Color Olive Butter (recipe to follow)
Directions:
Preheat oven to 400º F.
Spray one 8 1/2″ X 4 1/2″ loaf pan (or two mini loaf pans) with non stick cooking spray and set aside.
In a large mixing bowl, whisk together flour, salt, baking powder and cayenne pepper.
In a separate medium mixing bowl, whisk together eggs, milk and olive oil. Stir in ham. Add liquid ingredients to flour mixture and stir just until combined. Fold in cheese. Pour the batter into the prepared pan.
Bake loaf for 10 minutes.
Reduce oven temperature to 375ºF and continue to bake until loaf is golden brown (approximately 30-40 minutes). Transfer Quick Ham and Cheese Loaf to a cooling rack and allow to cool for 5 minutes before turning out. Serve warm with Two Color Olive Butter.
Two Color Olive Butter
yields 1 cup
Ingredients:
1/4 cup green olives, pitted
1/4 cup black olives, pitted
1/2 pound unsalted butter, softened
Directions:
In the bowl of a food processor fitted with a metal blade, add olives and butter. Pulse until combined.
Recipe courtesy of Libbie Summers from, The Whole Hog Cookbook (Rizzoli). Photograph courtesy of Chia Chong.
————————————————————————————————————–
Crown Roast of Pork with Fruit Stuffing
Ingredients:
6 lb. crown roast of pork (14 ribs)
Salt
Pepper
1 cup water
¼ cup white vinegar
¼ cup butter
2 sweet Italian sausages (1/4 pound)
½ cup thinly sliced celery
½ cup chopped onion
1 cup diced, pared tart apple
½ cup chopped dried apricots
2 cups bread cubes (1/4 inch)
1 teaspoon dried sage leaves
3 tablespoons flour
1 can whole apricots, drained (optional)
Watercress, fresh (optional)
Directions:
Preheat oven to 400 degrees. Wipe pork with damp paper towels. Combine 1 teaspoon salt and ¼ teaspoon pepper; rub meat well with mixture. Press piece of foil down into center of crown roast. Place roast in shallow roasting pan without rack. Roast uncovered for 15 minutes. Reduce heat to 350 degrees. Combine water and vinegar; pour into pan with roast. Cover tightly with foil. Roast 1 hour and 45 minutes.
Meanwhile prepare stuffing; In hot butter in medium skillet, sauté sausage (removing casing, and cut up sausage), celery and onion, stirring until onion is golden, about 5 minutes. In a large bowl, combine sausage mixture, apple, dried apricots, bread cubes, sage, salt and pepper to taste and mix well.
Remove roast firm oven. Remove foil. Spoon stuffing into center cavity, mounding. Cover stuffing with 10 inch square of foil. Return roast to oven and roast 45 minutes. Place roast on heated platter and keep warm while making gravy. Make gravy; Strain drippings in roasting pan. Pour off fat from top, reserving 2 tablespoons. Return the two tablespoons fat to roasting pan. Stir flour into fat until smooth. Stir in drippings (about 2 cups), bring to boil and reduce heat; simmer, stirring about 3 minutes, or until thickened. Garnish platter with apricots and watercress if desired.
Prep time: 40 minutes
Cook time: 2 hours 45 minutes
Difficulty: Easy
Serves: 10