Words by Amy Zurcher
Artwork by Monica Cook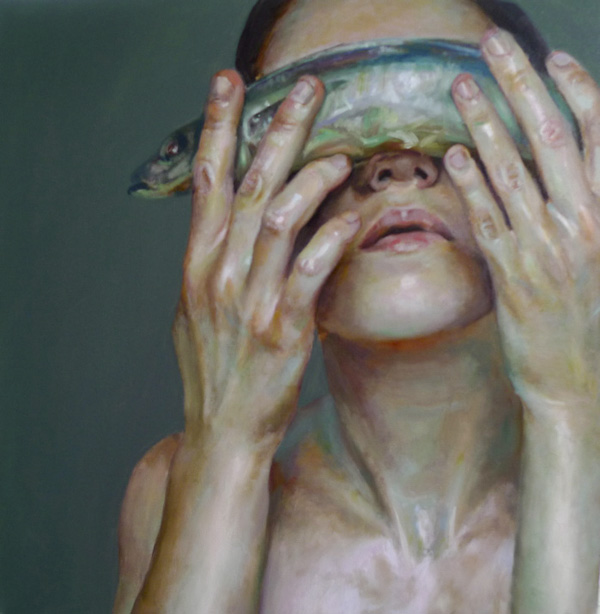 Dear readers and Libbie, I must confess…I am a vegetarian. But please don't hold that against. I love food and color and all things gorgeous, salted and styled, if you please! Given this new information, you can probably surmise that I prefer my fish swimming in the stream rather than looking up at me steely eyed from a plate. Some of my best memories growing up are of me and my dad fishing from a small boat in a little lake near our home in Indiana. We would cast our lines into the water, optimistically hoping to hit that sweet spot teeming with fish or debut a new colorful lure. After a good bit of sitting, we moseyed into having the inevitable talk. You know—the kind where you open up and surprise even yourself with revelations; the kind where you learn your dad was once a lot like you. Its the kind of soul-searching conversation that seems to happen naturally while fishing, staying up late around a campfire or embarking on a long road trip. We did catch some fish though, and ooh the excitement and the bragging to follow. We usually threw them back in the lake, (maybe foretelling my veggie-ness) making it easier to brag (you can hold your hands as far apart as you want, slowly inching wider with each tell of the story). What an adrenaline rush when the fish popped out of the water, and my dad would skillfully reel 'em in! In those few moments, while he was unhooking the catch, I loved to see and touch something from another world—the underwater. Its shimmering scales reflected in the sunlight, dripping with water, captivating me. Its arrested ethereality was captured in my memory and imagination before we returned him to his world where he could easily breathe again. It was like we were both holding our breath but for different reasons.
This week my focus was on a self-portrait of artist Monica Cook with a fish. She is known for her masterfully rendered self-portraiture done in subtle colors that are deep and luminous. Her acute attention to detail, particularly in flesh and veins, is breathtaking. Her work has a hyper-realistic quality to it that haunts me. Truly, when I am stuck in one of those conversations that will not end, or waiting for an appointment, I run the happy fields of my mind, and believe you me these fields are stocked full of images of Monica Cook paintings. Of all my material things on this earth, a painting she gave to me that hangs above my bed is one of my most cherished possessions. I never tire from staring at her work. Since she moved to NYC a few years ago, we have kept in touch via email, with her sending pictures of new creations. Every time I open an attachment, I emit an audible sigh, an impromptu clapping of the hands or a slack-jawed response over this woman's incredible talent. The painting for this week is a favorite of mine. The silvery reflectance and iridescence of both fish and skin are mesmerizing. When I asked Monica for her thoughts on this work she said "My love of paintings is rooted in a fascination with luminosity and hidden interiors. By painting skin, I am given a challenge to capture that luminosity and allude to what is hidden under the flesh, playing with the physical and psychological tension both of the viewer and the subject. I began painting seafood, fruit pulp, gooey substances etc…on the figures to add to the feeling of luminosity (when something is wet it shimmers). I enjoy the confusion of substance; the goo and busted-up sea creatures and fruit are both provocative and repulsive. It is about reinvention and wonder, bringing magic to the mundane, as well as alluding to what is inside of us; our inability to neither understand nor fully control what we're given is both terrifying and extremely intriguing. This painting, blinded with a fish in hand, is a pretty direct representation of these ideas. During the photo shoot I interacted with the fish until it became new to me. Covering my eyes helped to remove myself from my preconceived ideas of the fish and deepen my senses of the experience… feeling its slick outsides and puncturing my finger through its skin to its insides. That simple curious moment was wrapped up with such a mix of emotions—an exhilarating experience, horrifying and violent yet quiet, intimate and human."
For more of the artists work, visit her website monicacookart.com or shopscad.com