By Brooke Atwood      Photography by Chia Chong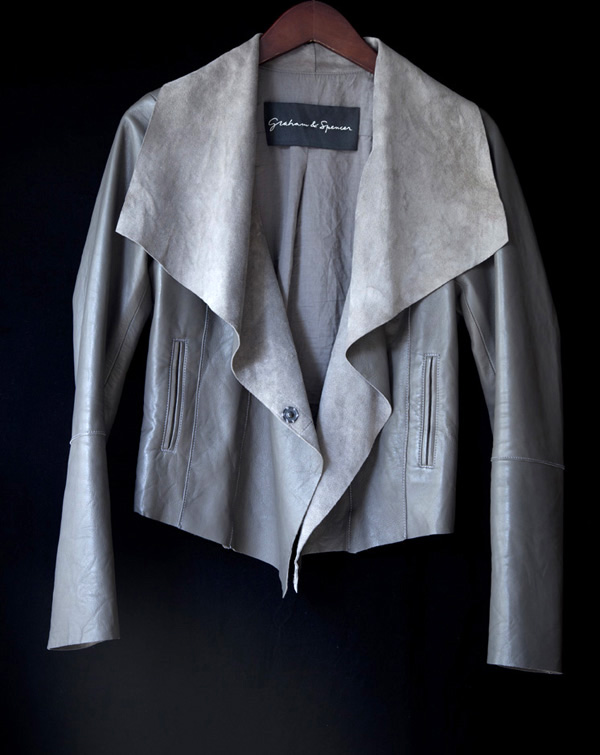 One could easily say that I have a slight obsession with anything leather. My love for wearing, designing, styling and yes, even smelling leather comes honestly. Born and raised on a farm in Mississippi, and the middle child of three girls, my professional cowboy father was content that at least one of us (yes, me) found an interest in being an authentic cowgirl. His sidekick at horseshows and early morning feedings, I learned at an early age this would enable me to be outfitted in full leather chaps with fringe (with silver conchos with my initials at the bottom mind you). My own custom leather saddle, cowboy hats and of course the belt buckles I won, were attached to leather belts with my name engraved. True story. The smell of my father's tack room filled from ceiling to floor with leather saddles, bridles, chaps, and boots is a childhood experience that probably has something to do with my adult leather cravings.
This weeks inspiration was a no brainer when I chose this yummy, buttery grey leather jacket. No, you can't eat it, although I've been tempted! Love the slim fit, with the perfect drape down the front. It has a tough girl feel with a touch of feminity that any gal could pull off, the perfect combo! This is a jacket that I refer to as my "staple piece". It will absolutely look chic with anything! I have been creating an all grey toned look while wearing it with my grey J Brand skinny jeans, white tee and black ankle boots. For a chic and savvy night look, I pair it with a sequined skirt/shorts, white tee and a pair of plain black pumps.
Designer: Graham and Spencer
Purchased At: By George
Price: $650